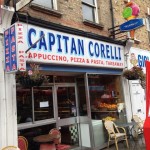 Apparently, a new 'mortgage questionnaire' has recently been introduced by the powers that be to make the unalloyed pleasure of purchasing a house an even greater joy. I imagine Question 1 is something along the lines of,
'Would you like to live in London?'
If the answer is 'yes' you are immediately denied a mortgage while they arrange for you to be openly mocked in the nearest public space that hasn't been sold to amoral developers, on the understanding (rather than 'condition') that a tiny alcove is set aside and labelled 'affordable housing cupboard'.
Having spent the last seven years happily ensconced in Battersea, two miles from where I was born, I would very much like to have bought a house there, but sadly I don't speak Russian, have a trust fund, or wish to live in a cupboard.
Battersea has, to use a technical term, gone mental. The imminent arrival of the new American Embassy and the attendant building sites along the river in Vauxhall, the millionaires-only-need-apply Power Station development and the boon to travel delays that is a planned extension to the Northern line have fired up a massive housing bubble within a bubble that is itself within such a bubble they should get Michael Buble to play the opening ceremony. The present state of the London housing market is a genuine horror story, with its roots in the politics of the eighties, the ramifications of which threaten to stretch into a bleak and irreversible future for which we will all be poorer.
Well. Not all of us, obviously.
It was my good friend Marcus Brigstocke, himself a long term resident of SW11, who recently pointed out to me that Battersea was becoming 'like Hong Kong – essentially lots of very rich people living on top of one another,' and if there's a phrase to truly take the charm out of an area, that's it right there. Marcus is moving to Balham because he managed to get on the property ladder a long time ago and because he does considerably more telly than me.
I, on the other hand, have moved to Hertford, because that was always the dream.
Seriously – I love it. I have a garden big enough to have discovered a (fourth) pond we didn't even know we had when we bought the place. I have three bedrooms, a loft, a basement, ample space for expansion and I'm still waiting for the morning when I wake up and decide the whole thing has been a dreadful idea, but with every passing day that seems more and more unlikely. To buy anything like this in Battersea, we would simply have had to add a '0' to the price, and that, for somewhere twenty miles away, really is proper mental.
My first farewell to Battersea was to a building I had already said goodbye to some time ago. What is now a second outpost of Brixton's (rightly) well-regarded Boqueria used to be a tiny branch of the less well-regarded Barclays Bank until it shut suddenly a couple of years ago, with the cheery announcement that the standard of service would not be affected in any way. Since I now had to cross a rather large river to get to my nearest branch, I begged to differ, but simply chalked it down as yet another bare-faced lie from the financial sector.
The building lay dormant until a few months ago when the builders moved in and in no time at all we had a shiny new tapas restaurant perched on the junction of Queenstown Road and Battersea Park Road, right next to the traffic lights, just like in Spain. Boqueria is named after the famous market in Barcelona, and really my only serious criticism of the whole venture is one of location. As Marcus and I sat on the raised area overlooking the crossroads and tucked into some really quite excellent Spanish food, I could not have felt less Hispanic if you'd nicked my football, banned bullfighting and refused to let me have a nap in the afternoon.
Marcus had been singing Boqueria's praises for some time, and for the most part with good reason. While a plate of cured hams was not the finest I've ever had, we had gone for the mid-price option, and with Spanish ham you get what you pay for. There were many highlights – beautifully plump anchovies in vinaigrette matched with perfect olives, spicily fragrant chorizo with cider, faultless prawns, punchy alioli, delicious squid in its own ink with rice and a zinging plate of courgette carpaccio so cleverly done it had letters after its name. There was good bread, a fine selection of cheeses and the only minor let down was a pork shoulder with foie gras and truffle puree which probably suffered most from simply being more expensive and yet not quite as exciting as we thought it would be. All this was washed down with sparkling water and fresh pink grapefruit juice cutely served in jam jars. We finished with a couple of cortado coffees and a bill of  £82.55 excl service, which seemed very reasonable for what we ate, which was quite a lot. Would I recommend Boqueria? In terms of food and service, unreservedly, but it is instructive that every time I recall the meal, the image that persists is one of a huge articulated lorry belching fumes behind Marcus's head. I would happily return, but as I now have that much further to travel, I'd probably go the extra mile to the Brixton branch, if only to find out whether it's in the middle of an NCP car park.
My final meal was a rather more emotional affair. I have introduced Marcus to the enormous joys of Capitan Corelli's and he has become a regular. I have taken friends, family, girlfriends and fiancée, but this was a meal I wanted to eat on my own. For anyone who has been following this blog from the beginning, in my third ever post I threatened to write about my top secret Italian local, and now that I will no longer be disturbed by my enormous readership darkening its doors, the time has come. If you've also been following those execrable Aviva ads, you'll have already seen Corelli's as it was the location for one of them, even if the glories of eating there weren't particularly well represented by Paul Whitehouse in a fat suit and comedy accent.
I love this place. It is best described as an Italian greasy spoon, and at any time during the day (it only opens for the evening on special occasions – if you're anywhere near during Italy's World Cup games it's worth trying to get in,) you will find every kind of character wandering in, from local office workers to hungry comedians, families with young children to gangs of men shouting at each other in Italian and ordering enormous plates of pasta. It would give Nigel Farage a heart attack, which is another reason to love it. Enzo, the chef, spends as much time pinching babies' cheeks and glad-handing as he does in the kitchen, but what he cooks in there is fabulous. Behind the counter you'll usually find the gently brooding presence of Mustafa and a touch of hard-working glamour from Wilma, who deflects industrial levels of flirting with consummate ease whilst also constructing the best sandwiches in South London. The whole operation is smiled over by the rotund and implacable presence of Pasquale, the patron, who parks his elderly chocolate Rolls Royce outside, takes a corner table and surveys his domain with perhaps a minestrone in front of him, or just his hands linked contentedly over his belly. The walls are covered in pictures of film stars and singers, not to mention the odd article from Sunday magazines extolling its virtues – Helen Mirren includes it in her 'perfect London evening', it would definitely feature as my 'favourite table' and Marcus was considering writing about it for 'Secret London' until I told him not to. He can now.
The food is sensational, if not particularly refined. Corelli's exists to feed, not to be reviewed. There are normally three or four pastas (if you want the best choices, get in before 12:30,) and the same number of main courses, on plates piled high with a selection of whatever vegetables were available that morning. Highlights will vary, but there's always a good chance of oxtail, rabbit stew, meatballs, squid and chicken in varying permutations. I have a particular fondness for the breadcrumbed fish, which I had on this occasion, although the river cobbler with tomatoes and garlic is always a winner too. It really is well nigh impossible to go wrong. There is no wine list, but a decent glass of red or white can always be found if required.
Next door they have an ice cream making operation (it doesn't get any better than this, does it?) but there are also rows of apple pies and individual tiramisus in the chiller cabinet. I had the tiramisu. Of course I did, it was my last meal as a Battersea resident in a Battersea institution, so I won't patronize you by trying to describe how absurdly good it was. I finished with what I confidently contend is the best coffee in London – I know Helen Mirren agrees – and how could you improve on Italian coffee made by a Turkish man?
And the price of all these unfettered delights? Well, there was plenty of change from £20, but I wasn't going to take it. I got a hug from Mustafa and a kiss from Wilma, who also pressed another tiramisu into my hands for my absent 'lady' (although she wasn't the one who scooped it greedily out of the fridge a couple of days later,) and I suddenly realized I had an enormous lump in my throat.
I may now have frogs, fish, fruit trees and raspberry bushes, two sheds, some truly idiosyncratic DIY to unravel, fields to walk the dog in, stairs up to my bedroom and down to my garden, and all these make me very happy, but I don't have Corelli's, and that makes me sad. We have been through a lot together, and of the many things I shall miss about Battersea, I shall miss Corelli's most of all. Although it is not their fault, I really can't say the same about Boqueria, because, very well done though it is, it's also very well done elsewhere; there is no shortage of restaurants I can go to watch bankers oblivious to the fact that where they're eating was once an actual bank, and somewhere that served a purpose beyond servicing their expense accounts.
There are still some places, however, that hum with a sense of community, with individuality and charm and genuine warmth and genuine worth. They are becoming harder to find, and, like those of us not on a six-figure income, they are being squeezed out of our capital city on a daily basis.
There are plenty of Boqueria's, but there is only one Capitan Corelli's. Go – it deserves treasuring, and best of all, it will treasure you right back.
May 2014