January is of course the time for reinvention, when you spend a good fortnight or so pretending you're going to become some better version of yourself that rarely makes the transition to February. I'd like to say I'm adopting a healthier lifestyle, but what I'm really trying to do is get into a couple of suits that appear to have shrunk somewhat in recent months. We can all pretend we're committed to a new regime for its own sake, but what generally pushes us over the edge is the more mundane sight of catching oneself in the mirror from an unusual angle and wondering why there's a darts player in your bedroom.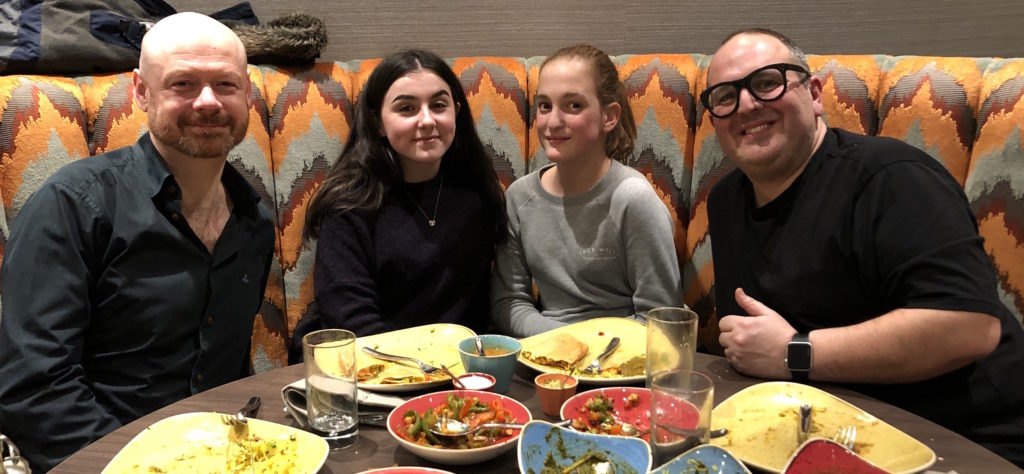 I'm not doing Dry January, although I haven't had a drink in 2019. I just don't want to set a time limit on it, although I realize that is sacrilegious to the martyrs of brief abstention and their self-congratulatory Just Giving pages. However, if you want to lose an inch or two off your waist, a Guinness moratorium is not a bad place to start. I'm not doing Veganuary either, although I did consider it for about thirty seconds until the reality of organizing it set in and, you know, ham. Nonetheless, I have tried to cut down on meat and dairy, to the extent I now have almond milk on my cereal in the mornings which I would have laughed at in the way my father still does a few years ago. It would probably be a good idea to give up dairy altogether, but, unfortunately, cheese.
Someone who is a better person than me in these respects is teetotal vegan comedian Justin Moorhouse, who, as he describes in his excellent new show 'Northern Joker' is not your stereotypical idea of an alcohol-free herbivore. I've known Justin since I started in comedy, and he'd been promising to take me for a meal in Manchester for ages. There is much good food to be had there, but it is quite something that a city as funky, cosmopolitan and downright fab as Manchester doesn't have any Michelin starred restaurants. This weekend, however, that was not what we were after, as Justin had promised to take me to his favourite – Lily's, in Ashton, just outside the city.
We drove out of town with Justin's daughter and niece and he told me a bit about the place. A former café set up next to the local Asian supermarket by the eponymous Lily in the early70s, it seems to have been full for the last four and a half decades. As a result, they recently moved a few yards away to a bespoke new restaurant, opened in a grand ceremony by a local celeb, one Mr J. Moorhouse. Lily is sadly no longer with us, but her entire family clearly still is, and they welcomed us all, and Justin in particular, into the restaurant as one of their own.
It was mid-afternoon, but the brightly lit, charmingly muralled room was already buzzing with customers, waiters and some seriously good smells. We were placed in a booth just inside the door to the neighbouring shop where various ice creams, pastries and Indian sweets were lined up in display cases, and we got to grips with what I can only describe as an exhaustive menu.
A couple of admissions – firstly, I'm not sure my opinions of a lot of the food count for much as it was clearly made by people who are experts in a cuisine I simply don't know enough about. Secondly – I have a tendency to binge (which may explain both the ill-fitting suits and my decision to knock booze on the head for a while.) Luckily, we found a positive solution to these potential pitfalls by getting Justin to order. And he did. A lot. So it wasn't my fault.
The poppadums arrived first and that was when the good news began. We've all sat around sickly mango chutneys, tired onion salads and icky lime pickles. I have eaten many, many poppadums in my time, and the condiments here were the best I have ever had. Each with it's own punchy flavor, and as far from a jar of Sharwoods as it's possible to travel. This could have been lunch and I would've been happy. Then the first wave of proper food began.

Justin ordered so much we didn't actually have space for any more on the table, and these were only the starters. Delicate little chaats – crispy yellow lentil flour shells filled with boiled potato, brown chick peas and a delicate mint pouring sauce were a hit with me and Justin, if not the girls. Crispy okra was a crisp yet chewy sensation, and a whole selection of samosas and bhajis kept coming, with various dipping sauces. Pretty sure we had some Lentil kachoris (a kind of spicy lentil pasty,) and Bateta wadis (spiced potato dumplings in a gram flour batter) but I may be wrong. It was getting quite hectic by now. There was a lot of chilli going on, but that delicious kind of heat that is a catalyst, rather than the flavour itself. And if things got too much, there was plenty of yoghurt about to cool you down (not vegan admittedly, but then again, neither am I.) To give you an idea of the taste explosions going off all over, I didn't even think about meat, and if your idea of a meal out has to involve bits of animal, in a rather neat reversal, I'm afraid it is you who are missing out.
A number of uneaten bhajis and samosas were put into a doggy bag and greatly appreciated in the ComedyStore dressing room later on – as often happens with Indian food, the flavours were, if anything, more pronounced when eaten cold. But back at Lily's we were working our way round our main courses. These included some spectacularly fragrant rice, slippery chilli tofu and a smooth and flavoursome spinach and mushroom curry. I'd ordered a naan as I'm clinically unable not to. We had two types – plain and garlic, chilli and coriander – which were a further delight for mopping up everything else, as well as some rotis. Having spotted one on another table, the girls also ordered an uttapam – an enormous rolled lentil pancake containing, oh, you know, some really tasty vegetable stuff. I was eating, not taking notes. One dish stood out above all others though, and that was the Gobi Manchurian from the Indo-Chinese menu – stir-fried battered cauliflower florets that we actually ended up fighting over in a very polite way. By this point, the odd dish may have remained unfinished, but these bronzed little nuggets stood no chance.
Slowly, we eased to a stop, like some sort of overladen steam train. Somehow the girls managed to find space for a couple of ice creams, but obviously that would have seriously screwed with my diet. As it was, I had eaten my bodyweight in vegetables, and as we all know, on the calorie front, that simply doesn't count. Service was beyond wonderful, and I get the impression that would be the case whether you attended with the chief ribbon cutter or not. Rarely have I felt so welcomed, or so satisfied after a meal. I'd like to give you an idea of the price, (I know that it was very reasonable from the pricing on the menu) but I can't tell you the exact figure, because Justin very kindly picked up the bill.

You can give up whatever you want for the New Year, but it's perfectly possible to be more positive, and find something new to do instead. Next time I'm in Manchester, I'm pretty sure I'll take the tram up to Ashton and pay Lily's another visit. Obviously I'll see if Mr Moorhouse is available to escort me, partly because I owe him lunch, partly for a little reflected North West celebrity gold dust, but mainly because there is no more fun place to be a teetotal vegan for the afternoon at any time of the year.
Jan '19
Justin is taking 'Northern Joker' on tour which even includes dates in the South. You can find venues and tickets here: https://justinmoorhouse.seetickets.com/tour/justin-moorhouse