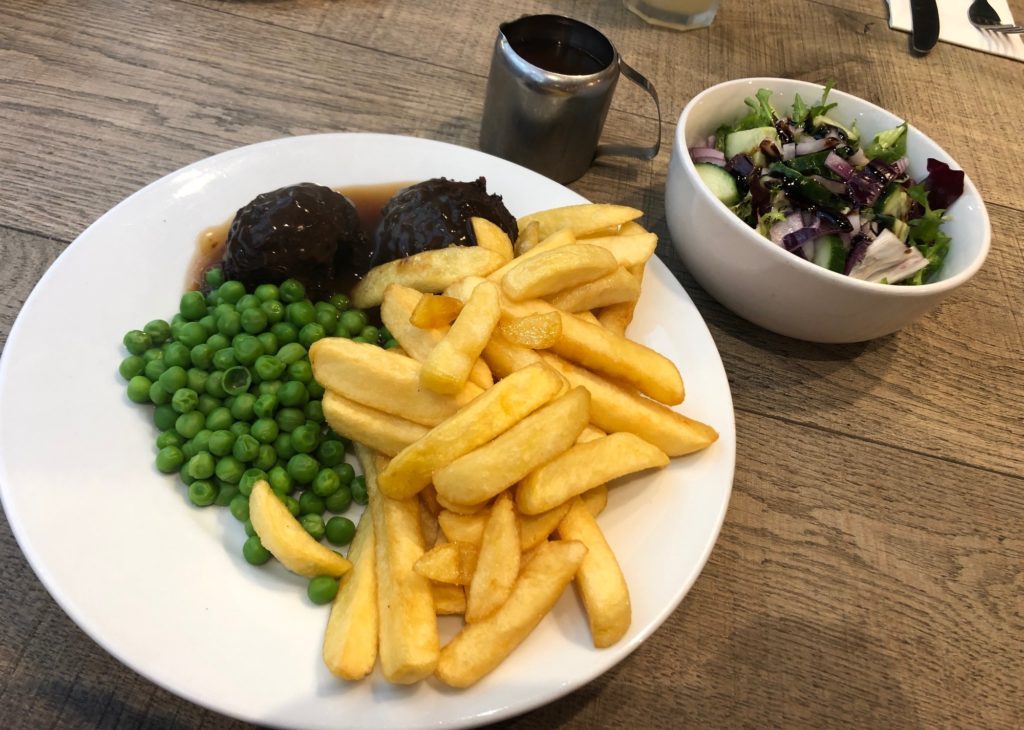 On Friday lunchtime, I found myself in the midst of an existential crisis in Cardiff City Centre. That this great nation, home of Dylan Thomas and Nye Bevan, with its proud socialist traditions, should have thrown its lot in with the right-wing project that is Brexit is bad enough. That the city has changed so vastly since I first played The Glee Club on its opening weekend fifteen years ago is not in itself a tragedy. Unfortunately, having sold its soul so completely to the corporate cock that the centre itself is now a vast, shiny, temple of Mammon called the St Davids Centre, containing all the usual suspects, probably is. Visiting one of them – The Apple Store – to be told the new computer I have spent nearly a thousand pounds on will not run the software my old one did for unspecified reasons, nearly led to my own personal Welsh Falling Down moment.
In need of a reviving lunch, I suddenly realised that simply everywhere I looked was yet another chain restaurant. I wheeled about like a drunk as interchangeable eateries whirled around me – Zizzi, Ed's, Ask, Frankie & Benny's, TGI Fridays, Yo Sushi, Cafe Rouge, Carluccio's, Bar Burrito, Prezzo and on and on and on. I numbly began queueing at Shake Shack with the vague notion I fancied a burger, before making a break for Nando's in a misguided bid for a healthier option. Once there I found an even longer line of identikit diners, so I headed outside for a little air to be confronted by Wagamama, Bill's and Gourmet Burger Kitchen.
Some of these places are very good – I love a Nando's, I keep everything crossed for the survival of Pizza Express. Some – Wahaca – are truly excellent, and I almost succumbed before I had an epiphany of sorts and determined to find somewhere independent, cooking their own food, and do my tiny bit to support them in their losing battle against moneyed homogeneity. I even took to Twitter for help – comics are great to ask for foodie recommendations as we spend so much time wandering around strange cities at lunchtime. The brilliant (and vegan) Carl Donnelly suggested the plant-based cuisine of Migli's, while old friend Glenn Wool helpfully mentioned a pasta place he couldn't remember the name of, in an arcade, near the castle, 'opposite a book store.'
Cardiff's numerous arcades remain one of its great joys. They criss-cross the main streets of the city centre like little veins to the main arteries, and still manage to support a large number of independent businesses, as well as a growing number that are less so. Having bought a couple of paintings from a small gallery down one of these a few years ago, I set off for another look and found myself in Wyndham Arcade. Here I came across Servinis, a tidy looking little cafe that had just the right mix of bustle, comfort and genuine warmth that I had so conspicuously been unable to find elsewhere. I was sat on a table for four by the window with a tiny little individual sign on it saying 'You are a cutie pie' which would normally have me stampeding for the exit, but here somehow managed to appear both charming and idiosyncratic. There was an open kitchen and a fairly simple menu consisting of all sort of breakfasts, hashes, sandwiches, a soup and a few main courses and salads. They offer a few cocktails too, but not so many you started to doubt they knew what they were doing.

In keeping with my general mood and distrust of the modern world, I opted for faggots with gravy, chips and peas and a side salad (off menu, but not a problem.) You can't get more honest, down to earth and relentlessly unponcey than faggots, and they were delivered to my table shortly after I had polished off an absolutely impeccable cappuccino, accompanied by a nicely bitey local ginger beer. It was a bit early for cocktails.
My faggots were great. The chips were actually the best thing on the plate, but that's hardly a criticism – perfect crunch on the outside, fluffy spud within. If I'm 100% honest, the faggots might have done with just a touch more offal for my taste, but they were tasty, satisfying and absolutely hit the mark. Were they the greatest thing I've ever eaten? No, they were faggots, but if you want dizzying flavour profiles, go and find Marcus Wareing. This was a lovely plate of proper ingredients, served with utter charm in a welcoming room by a busy kitchen who clearly cared about what they were doing. It may not have bothered the Michelin inspectors, but it absolutely warmed my heart. All told, the bill came in under twenty quid, although a richly deserved tip took it just north of that, and I was able to walk out on to the streets of Cardiff, if not a changed man, then one in a much better mood than I had been an hour before.
On Saturday I found myself in a similar situation, although a little later having gone back to bed after an early start to watch England's thrilling dismantling of the All-Blacks. I decided to hunt down Carl's vegan option. I found it, closed. Permanently. So then I went looking for Glenn's pasta joint. Opposite a bookshop in the Castle arcade, I found an empty unit, tables and chairs stacked around disconsolately like a weary metaphor. Luckily I managed to find a very serviceable carbonara at the nearby Santa Maria. A proper sauce and a familiar accent indicated some genuine Italian involvement, even if I'm always a little suspicious of a restaurant with garden furniture and no garden. While I was there, I googled my favourite gallery, to find it had shut down too.

I'm not here to preach the horrors of late-stage capitalism, or rail against the corporate world and its faceless dismantling of the fabric of our town and cities. I just want some lunch. But my two afternoons pootling around Cardiff were a sobering experience. This was probably not a bad thing after that early start for the rugby, but we would all do well to be wary of what is happening beneath our noses. Next time you're out on a busy shopping trip, take a moment before you dive into the convenience of your nearest Zizzi's or Café Rouge. Try and hunt down somewhere independent to support a little diversity in our lives. Ed's Diner will get on fine without you. Somehow, Frankie & Benny's will survive. Independent cafes, bookstores, galleries and specialist places won't, and we shall all be poorer for that. And if you're in Cardiff, hunt down Servinis and a plate of those faggots. They're like the big hug we all need in the midst of our collective consumerist crisis.
October 2019