Barcelona has, quite rightly, something of a stupendous reputation for food. I had always considered it a blemish on my CV that I had never visited, and therefore as my wife's birthday approached, I took what I saw as the perfect opportunity to do something I wanted on the pretext of doing something for her.
We were not disappointed. A short walk from our hotel led us straight across Las Ramblas to the fabulous Boqueria food market. Within minutes I could be spotted wandering around with ham hanging out of my mouth like a late-night fridge visitor, but with nicer ham, sold as it was in little cones, like ice cream, but better. The markets, and the produce, are simply wonderful – places to meander around and get lost in and as much a tourist destination as anything by Gaudi. The temptation to stop everywhere for tapas is almost overwhelming and we did, almost immediately. There was also an evening wander that ended with a lobster paella, which are two words that sit happily together, like 'seat' and 'upgrade,' which unfortunately don't happen on EasyJet, no matter whose birthday it is.
In a long weekend we (unsurprisingly) only scratched the very surface of the place. With so much on offer, I was just intent on enjoying myself, and didn't initially plan on writing about it until we happened upon Bosco, after which my wife looked at me and said simply 'You have to blog this. This is one of the best meals I've ever had'.
Bosco looks from the outside like a rather well designed bar – lots of solid furniture, pillars and a kind of tasteful classic aesthetic. There's even a fresco for goodness sake. We had passed it the night before and nearly gone in, but the fact it was about ten yards from our hotel meant we had wanted to be more adventurous. Luckily, we were feeling far more conservative on our second evening, by which I mean we didn't fancy another long walk, not that we wanted to privatise the NHS. Rarely has such a short trip been so well rewarded.
The menu was divided between fairly standard tapas and sections from the garden, the farm and the sea, as well as the rather charming 'Couple of eggs' with black sausage, iberico ham or foie gras. Our attention was caught by the specials, or 'Suggestions of Seasons' – five dishes in total, so we ordered the lot, assuming they were tapas sized portions. This did not meet with the unequivocal approval of our waiter whose combination of campery and abrupt disdain was displayed magnificently with the words,
"No. Is too much".
I imagine this is how Kenneth Williams might have behaved if he was Spanish and annoyed at being a waiter. I don't usually enjoy being told off in restaurants, but on this occasion we went with it, and ordered a couple of specials and a couple of other dishes from across the menu. I'm very glad we did, because very soon all was forgiven. By us, anyway.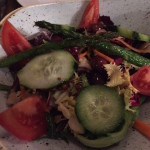 Earlier, we had spotted a shop that seemed to sell nothing but beans with a queue snaking away down the street. Thinking that any city that took its beans this seriously must be on to something, we ordered St Pau beans with Catalan sausage which explained what all the fuss was about. This was comfort in a plate, with plenty of peppery, herby, sausagey kick from a pork sausage, earthy black pudding and, er…just really good beans. A plate of the tenderest octopus I've ever eaten, with wrinkled potatoes (oh yeah) was astonishing. The merest hint of caramel licked up with salt made this a kind of alternative surf and turf, alongside a plate of perfectly fried aubergine tempura.
This was one of those meals where you start giving each other meaningful looks, even if you don't talk much because your mouth is too busy. As my wife said, even the salad was immense – what was truly wonderful was its simplicity: perfectly crunchy lettuce, cucumber, fresh tomatoes, olives and a little grilled asparagus. We were so preoccupied we didn't even notice our oxtail with truffled parmentier hadn't arrived. Eventually I pointed this out, and, when our waiter deigned to bring it over, it more than coped with our undivided attention. Velvety, braised meat in a sauce the colour of one of those night skies you're always hoping turn up on momentous occasions, this was lifted to the sublime by the richness of the truffled potatoes and little matchsticks of more grilled asparagus for bite. One of the best things I've eaten all year, if not ever.
We were so effusive by now, I think the waiter even smiled at one point, as though he'd known all along what he was doing. But still he had one last trick up his sleeve. We were slightly worried about dessert, but what actually happened turned a very very good meal into a great one. My apple crumble was perfectly acceptable, which is to say it would have been a highlight anywhere else, but across the table from me arrived four little spheres or 'bunyols de xocolata' with halved blackberries and a little caramel sauce. Inside the thinnest coconut dusted coatings was the most perfect warm molten chocolate imaginable. Between us the superlatives kept coming. We even thought of returning for them before we headed to the airport the next day, but decided not to on the unlikely grounds that to have them again might sully a perfect memory.
With a glass of rioja and water, the bill came to a very reasonable €80, plus a generous tip to try and cheer our waiter up. We noticed the table next to us had ordered so boringly we genuinely discussed going over and shaking them in the direction of some of the fireworks available elsewhere on the menu. Of course we didn't – I suspect it's impossible to have a bad meal at Bosco no matter what you order, and with any luck, one waiter's eyebrow would have sent them scurrying for a special or two whilst we wandered delightedly off into the Barcelona night. I'm not sure if the sky was the colour of braised oxtail, but it should have been.
March 2015