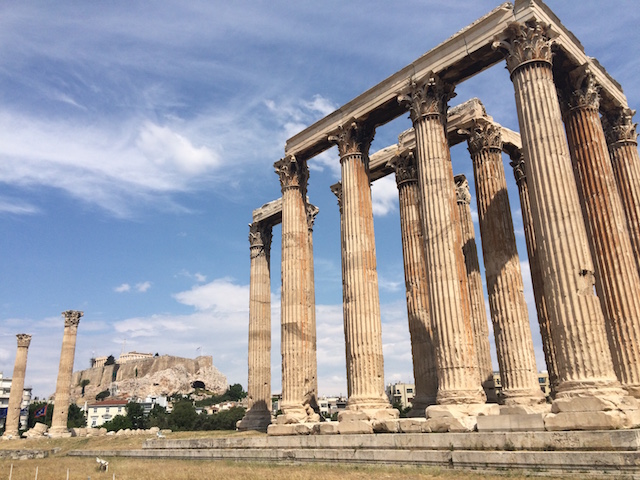 Like everyone, comedians have a tendency to complain about their job. Bad gigs, chasing payments, terrible journeys, the crowd that didn't get you or the TV opportunity someone else did. You cannot blame us for this – moaning about work is so central to the human condition there are cave paintings of people bad-mouthing the boss by the water cooler. With comedians, the ones you should really feel sorry for are the partners who care not one jot that the new Leeds Jongleurs is in a Tiger Tiger, or that Channel 4 have decided topical comedy doesn't work simply because they made an unholy pig's ear of The Ten O'Clock Show.
However, in a phrase that I have repeated far too many times on my travels, it still beats working for a living, and there are moments when you really need to thank your lucky stars above you have the best job on the planet below. Sometimes even your partner has reason to be grateful.
I have just returned from a thoroughly delightful trip to Athens to perform at three fundraisers for UNICEF organized by my good friend and fellow comedian Giorgos Xatzipavlou. Frankly, if that's what it takes to help the children you can count me in. Holidays are a frivolous waste of time, and if you're prepared to fly me and the wife to Greece to put us in a hotel just for the pleasure of hearing me address a very understanding audience in their second language I'm your man. The shows were fantastic, as was the hospitality, and while Grexit remains a very serious possibility, we boldly ignored it for the week and may well have contributed to a serious upturn in the local economy. Lovely people, wonderful weather, breathtaking surroundings, excellent food, a socialist government and the show was on TV. I was a Europhile before the trip. Now I want to move there.
Knowing about this blog, George (as he shall henceforth be known as Giorgos sounds a bit over formal and Giorg looks wrong,) was very keen to show us a little of the local restaurant culture, or, to put it another way, he completely spoiled us rotten. After three nights of shows we had a weekend off (I know – where is that timesheet?) before heading to Thessaloniki for the final performance and George took us to Botrini's. We were joined by his girlfriend Katerina and his friend Steve, who was kindly driving us around and who isn't really called Steve but whose real name is so Greek not even Facebook can cope with it.
I think I've been to enough restaurants by now to recognize that slightly tingly feeling you get when you realize you're about to have an experience rather than just a meal. That sensation was heightened by the arrival of beetroot meringues and was in no way dampened by a light drizzle that took us from our slightly oversized table to a perfectly cosy one under an awning across the courtyard. We had opted for the tasting menu and I always find these rather hard to write about as it inevitably becomes just a list of dishes. Which is a shame because I have just discovered that thanks to the awning, the photos I took of them are truly appalling. Perhaps I would do the meal more service by simply listing the noises we made with each course although that would run the risk of making this blog somewhat pornographic, and there's quite enough of that on the internet already.
There was some fiendishly clever cookery at work here. You know things are going to get interesting when the waitress comes over to apologise that tonight,
"There will be no octopus in its natural environment."
There was a lot of deconstruction going on, but what was also very clear apart from the superb technique on display was there was a great deal of fun being had, both in the kitchen, on the plate and around the table. After a lighter than air cheese pillow (one of four amuse bouches,) highlights kept coming thick and fast. My notes are a scribbled selection of ingredients that perhaps don't do the dishes justice, but are probably worth repeating here as the best way to give you a sense of them:
Yoghurt sorbet, goat's cheese snow.
Lardo wrapped prawn with hazelnuts. Oh my. Like a shrimp Frazzle.
Squid sea urchin truffle carbonara (truly amazing this one, with the squid replacing the pasta)
Veal tongue carpaccio tuna mayo tomato water.
And so on. Many of these were re-imaginings of Greek classics – an octopus stifado arrived on a bed of perfect risotto with a herb snow, (almost definitely not its natural environment,) one of my absolute favourites was a deconstructed tsatziki with a cucumber granita and garlic cream hidden in a white chocolate clove. A small piece of perfectly cooked bream wrapped in a vine leaf. I lost count to be honest, and I ran out of superlatives about a paragraph ago. When you're finishing off 'submarine of my childhood' – a riff on Mastika, a sap that the Greeks use for gum and a rather nice digestif, spherified in a rosewater soup, just before the false ice cream doughnut appears, you realize that when you try to write about food like this, you are essentially talking bollocks. If you want to know what this food is like, you really must go to Athens and try it. After, by my calculations, fifteen courses, my mind was well and truly blown.
Which is what made the next day even more special. My wife and I took the forty minute boat trip out to Aegina, known as The Pistachio Island, because, well, they're big on pistachios. All along the seafront were the usual suspects – everything from shiny ice cream parlours with plastic seats to bars straining at hipness to family run bistros. I bet you could have a terrible meal here. At times like these you are heavily reliant on luck, and in keeping with the trip as a whole, we rode ours rather well. Having walked through the small but nicely stone slabbed and authentic fish market, we resisted the temptations of the restaurant adjoining it, mainly because it was adjoining it. Instead, we ambled into Ouzeri Tsias, (Ouzeri being the generic name for a place serving traditional Greek cuisine.) Slightly tatty, with just the right touch of homely – we settled ourselves under another awning, and proceeded to have one of the simplest and best meals I can remember. As far as I can tell, the son served us, and when I asked if the lobster was on, his mum showed me a couple and asked me if I'd like mine grilled or boiled. I asked what she would have and so we settled upon grilled, although not until we'd had a very good plate of plain asparagus. I had a couple of cold beers and could have practically wept for joy.
My wife had a perfectly cooked bream with some of those greens they're rather keener on around the Aegean than we are over here, and we shared a classic Greek salads where they just plonk the block of feta on top with some oregano. Every time I have Greek salad I am amazed all over again at the simple alchemy of olives, tomatoes, feta, cucumber and red onion and this was no exception. This was essentially peasant food, for very, very lucky peasants and we got change from £50. Some people want Michelin starred technique and ferocious complexity as was supplied in droves at Botrini's, some want the simplicity of Tsias. Personally, I see no reason why you can't have both.
Interestingly, the next night, we kind of did. George took us down to the harbour to Varoulko Seaside – the first Greek restaurant to ever gain a Michelin star. Did I mention that I like George very much? This was another fascinating and exquisite meal, marrying wonderful seafood to cooking that, while slightly less whizz-bang than Botrini's, was still technically superb and utterly delicious. We ordered an extra starter as we wanted to try cauliflower soup with smoked salmon, which gave us a tantalizing insight into what was to come – deep, smooth and soothing cauliflower seasoned with the saltiness of the salmon and just a note of espresso at the back of the palate.
From then on, we got what we were given and what we were given was goood. Seabass carpaccio with a little pickled seaweed, dorade with a tiny crisp bread coat and pea puree, smoked aubergine mousse and carrot and tomato jam that looked so pretty on the plate until we were told to tszuj them up a bit and taste them all together. Tender cuttlefish with a fava bean puree that might have distracted Hannibal Lecter and perfectly grilled prawns of a size you only seem to get on holiday – sorry, on business trips.
We ordered all the desserts. It just seemed easier and there were enough of us. There can't be many things more fun than picking at a number of Michelin starred desserts with a group of friends sat by a big glass window next to some yachts. There was possibly a little too much chocolate in the desserts, but you're right, that is a ridiculous sentence. There was a lemon cube if you wanted palate cleansing, and ice cream to cool you down too. There was everything really – I won't go into too much detail as I'm starting to feel slightly ashamed of myself just writing this down.
The trip to Thessaloniki saw another packed out theatre and a restaurant which I want to call Ntore, but I think that may be another generic term. Anyway, it looks fabulous – like somewhere Tarantino or Scorcese might hold a gunfight – but don't order the sausage platter. There was nothing wrong with them, except the number. I stopped at three I think, and still don't want to look at another sausage for a while. But we had really had our gastronomic adventures in Athens.
I had no idea I would come back from austerity-ravaged Greece having put on almost as much weight as I did in artery ravaging New York. I thank George, Katerina and Steve from the bottom of both our hearts, and I cannot wait to go back in November to perform some more theatre shows where it appears they're actually going to pay me too. Seriously, I would do it for free. Again. Unless you're reading George, in which case I won't, but you must let me pay for dinner – I know a little place in Aegina…
May 2015