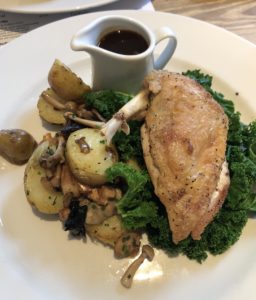 The Sunday lunch is a venerable institution for very good reasons. Really, it should be simplicity itself, but it is not always so. We have all sat around cold plates of shoe leather in brown water, presumably left over from cooking the vegetables over (several) nights, which does at least soften the accompanying pucks of hardened batter in a futile attempt to make them more pudding, less Yorkshire. However, as the UK continues its journey away from international culinary laughing stock to experiment with more complex and divisive reasons for the rest of the world to dismiss as peculiar self-harmers, the dreadful Sunday roast has, thankfully, become that much harder to find. I make a good one. My wife makes a better one, much as it pains me to say so. What I think everyone can agree on is finding a pub near you that does a really good one is a discovery to be cherished, and once you have done so, that pub is likely to be the beneficiary of your custom for years to come.

I could wax lyrical here about any number of regular haunts over the years, but we all have our own, so, as a generous soul (but particularly lazy writer,) I'd like to invite you to take a moment to remember some of yours.
There. Nice, isn't it?

I think I may have found the latest incumbent of the hallowed title of 'Alistair's local'. We've been to The College Arms about four or five times now, and it has only varied in standard from the very good to the absolutely excellent. We've even taken my parents there and they are the KISS OF DEATH to any establishment, as I think I may have mentioned previously.
Since getting married, moving out of London and becoming a dad, the biggest change to my Sunday lunches is they tend to involve more people and I don't get to read the paper any more. Oh, and a bit more food ends up on the floor, which means the dog is happier too. My brother-in-law was staying with us, so we made a last minute decision to book and thankfully they found space. There is a restaurant if you call a little earlier and are not well disposed towards our four legged friends, in which case I don't particularly want to sit next to you either. As it was, we found ourselves neatly tucked away with a high chair in a corner of the snug next to another family with a baby and a dog, like the sort of advert that makes you throw things at the telly.
There is a decent a la carte of relatively typical gastropub staples, but with a couple of dishes that hint at more ambition – a beetroot and butterbean slider, or a Catalanfish stew – but I have no problem with staples. These dishes are there because done well, they taste really good, which is exactly how The College Arms does them. We didn't even have starters, but went straight for mains. My wife and her brother both had roast lamb, which was just about as spot-on as a Roast Lamb Sunday Lunch could be – perfectly cooked, moist and tasty meat in generous portions with the sort of Yorkshires my wife can make and I can't (an extra one is another 50p, so they even have their own price tag.) What really elevated the whole experience though, was the perfect vegetables. It's so easy to get bits of a roast wrong and they just don't. I, naturally, went a bit more poncey and ordered the guinea fowl because we have history. About a decade ago, I lived with a dear friend, comedian and filmmaker, Barry Castagnola, who very kindly put me up in his flat when I was very much in need of being put up with. Early in my stay he told me about the local pub and the fact they did a good burger. When I came back he asked how it was, I airily said 'Oh, I had the guinea fowl' and he has not let me forget it ever since. This one was served as a supreme with crispy skin in a red wine jus, on a bed of kale with wild mushroom sauté potatoes and was every bit as epic as that sounds. I even splashed out on a Yorkshire pudding as it didn't come with one (sacrilege!) and sent Barry a picture.
Obviously dessert was a requirement after this, and once again the kitchen proved that a little care goes a long way. My brother-in-law had an excellent chocolate tart that I would like to tell you more about but he was only handing out pieces too small for anyone else to taste. A square of bread and butter pudding with apricots running through it and sat in a large pool of custard might as well have had 'comfort' tattooed across its knuckles. I was left with a slightly deconstructed apple and rhubarb cheesecake. Now, in my book, a cheesecake needs a base – this had a ginger 'crumb' casually tossed across it. If I was being ultra picky I would suggest this left it as more of a splodge than a slice, but as I ate it, I (almost) became converted. Small blobs of rhubarb jam gave the cream cheese something to work with, and wafer thin slices of dried apple gave it further acidity and the textural contrast the crumb was trying to achieve. It was delicious, even if I thought it wasn't at first, and that is quite a feat.
Service was exemplary throughout. Well, they forgot a pint of lime and soda, but I almost hope that was just to remind us how little else they got wrong. £80 for three and a half of us, including service, seemed a fair price for a truly lovely meal. If you are looking for the perfect Sunday lunch, I would recommend The College Arms unreservedly, but I won't, because I still want to be able to get a reservation.


Jan '19