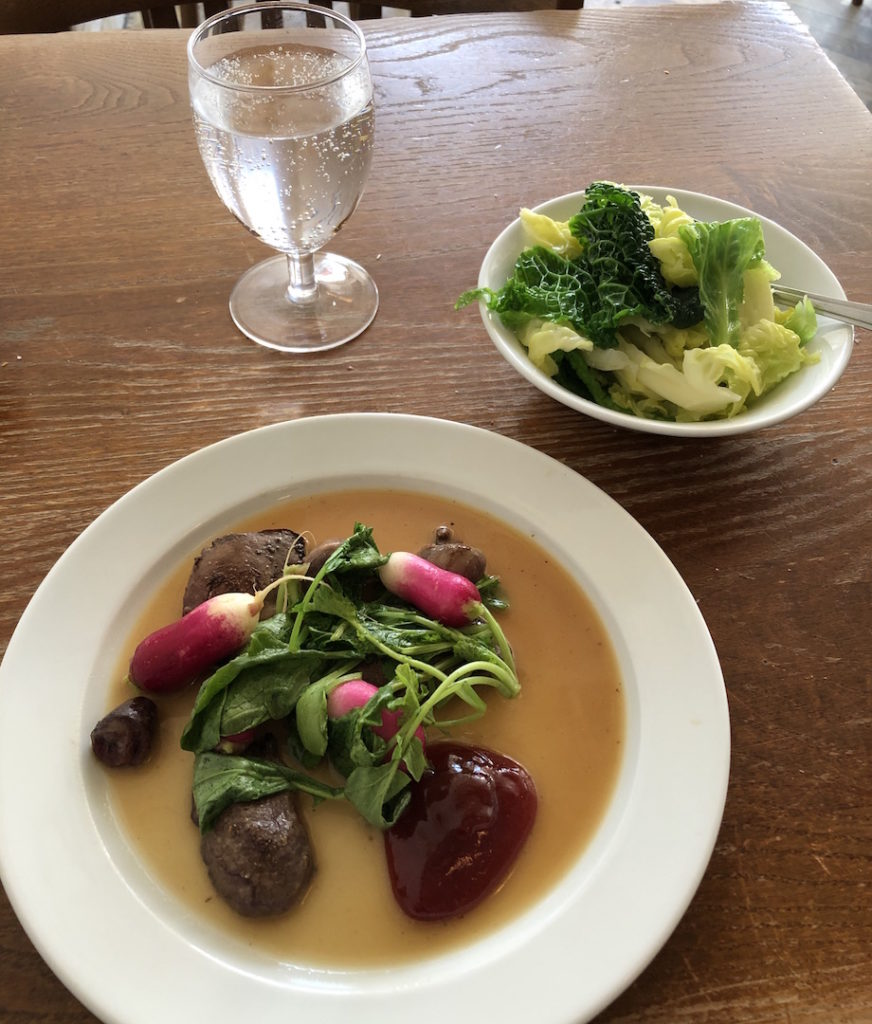 It is a truth universally acknowledged that a man in need of a good lunch could do far worse than being fed by Fergus Henderson. It's also a great deal more exciting to read a slating than a rave, so you may be disappointed by this in a manner I wholly wasn't by an unplanned trip to East London.
As someone who occasionally auditions unsuccessfully for the opportunity to flog unwanted items to an unsuspecting public, I found myself in Hoxton attempting to convince a bunch of aging creatives I could take their YouTube video viral in a manner totally at odds with the size of fee on offer. I was ushered into offices that would have been open plan, were it not for enormous rounded Perspex screens that resembled Kubrick's vision of the future circa1965. These are presumably vital for keeping app developers and cereal influencers separate and preventing artificial turf wars breaking out across the floor. However, it did make for an odd environment in which to be filmed pretending to be covered in food from a faulty food blender which did not exist. As anyone who has been through the ridiculous process of attempting to appear in adverts will tell you, the one thing you invariably leave at the door is your dignity, which is made even more agonizing when you have a personal shopper and a Bitcoin entrepreneur staring at you quizzically through the walls of their adjacent pods.

Having sold my soul (very cheaply,) I bid farewell to my perfectly amenable tormentors, certain I had failed to convince them of their fictional blender or my air-driving skills, mainly because I had failed to convince myself of them either. Nonetheless, I departed with a spring in my step, partly because my ordeal was over, but also on account of the weather, which seemed to be putting on a much better show than I had just managed. I ambled towards Spitalfields with lunch on my mind, and no particular plan of how to achieve it.
Crossing Brick Lane is often said by those in the know to be the best way to avoid disappointment, which is perhaps a little unfair, especially if what you're after is a bagel, but in retrospect, I think I knew where I was going. I'd like to pretend my life is a bohemian whirl of chance discoveries, but for most of us, when it comes to lunch, there is little that recommends itself like certainty.

Unsurprisingly enough, I found myself in front of St John Bread and Wine and did what any sane person would do. I went inside. Like its slightly better known sibling up the road, there is something enormously comforting in the unfussy minimalism within. A more waspish diner might throw the words 'Victorian workhouse' at the décor, but between the wooden tables and chairs, the blackboards and the glimpse of a kitchen that is clearly a place to work rather than show off, there is a simple utilitarian aesthetic at work.
This also translates into an easy confidence on the part of the staff. They know they do what they do very well, and they invite you to share in it with them. If you are not impressed by St John, that is your loss, not theirs. A simple A4 sheet lists the dishes on offer, with a few specials chalked up on the blackboard. These are not all ingredients you would expect to find on every menu, but they are of a part with the quiet revolution in British cooking Mr Henderson has presided over for the last couple of decades.

As such, it would have been remiss not to begin with the dish that best encapsulates that ethos, the effectively holy roast bone marrow on toast. The late Anthony Bourdain described it, unimprovably, as 'God's Butter.' Nonetheless, when dealing with food this famous, one is always tempted to see if the fuss is still justified. The answer is yes, it is. I had almost prepared myself for disappointment, until the crisp of the thinly sliced sourdough toast was dampened with the comforting richness of the marrow and perked back up with the zing of caper, parsley and onion, and that sense of magic filled both mouth and brain. It made me very happy, and you can't ask for much more from a plate of food.
There was the usual exceptional selection of wines by the bottle and glass, but unfortunately I needed my wits about me later in the afternoon, which is the only area where lunch veered away from the sublime. This did at least allow me to concentrate on the food. My main course was a special of rabbit offal with radishes and a quince jelly that appeared determined to ask redcurrants outside for a fight, and then leave them there looking foolish. Radish tops made excellent mops for soaking up a delicate sauce made with sherry vinegar and chicken stock – I also ordered some greens, and was about to get a little grumpy at cabbage costing £5.20 until I tasted it and then I just wasn't. I also wondered about portion size, but the combination of the rich, iron packed offal, the sweetness of the jelly and the soothing qualities of the sauce all worked so beautifully together, I finally understood why the phrase 'an elegant sufficiency' was invented.

The main reason it was invented was, of course, to leave room for dessert. Having recently forsworn chocolate as part of an innovative 'fitting into some of my trousers' regime, I had made it to April in slightly better fettle than I had approached January. As such, I was in the mood to reward myself. My wife replied to the picture I posted of my lunch online with the suitably tart, "Is that pudding simply a slab of chocolate?" to which I responded with, "It is a chocolate terrine with a brandied prune. So basically yes. With a brandied prune." I may not have been drinking but there is certainly no law against sherry sauces or fruit pickled in the finest sense of the word. This was pure, decadent indulgence, and if anything made me grin more widely than my starter, which can't have been a pretty sight.

This was not an everyday meal, even if an unshowy restaurant selling sourdough and Eccles cakes across the counter made it almost feel like one. Which is really St John's greatest triumph – they make the wonderful almost mundane, were that not to damn them with faint praise. It is not every day I spend almost fifty quid on lunch, and if it was, I'm pretty sure it would not be long before I would have to start searching for a new wife, without the good fortune which is, according to Jane Austen, a fundamental requirement of finding one. It is probably best at this point I resist the temptation to mangle her words any further. She doesn't deserve it and anyway, you shouldn't mess with perfection. As St John Bread and Wine understand. Perfectly.
April 2019