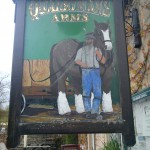 Well here's a thing. I love Bath. I went to school here and have nothing but fond memories of the place. That's not entirely true. Like most people, I have all kinds of jumbled up and confused memories of the period marked 10-18, but, looking back, I can't be anything but pleased by the place and the people I spent the eighties with. As if to prove this, after a lovely gig at The Bath Komedia, I ended up in Moles (where I spent most evenings in 1990) with old school friends and the rather lovely Rich Wilson, dancing around like a tit to Primal Scream and having an absurdly good time. I probably looked like someone's dad behaving inappropriately at a wedding but do you know what? I really didn't care, and that's where all the best times are to be had.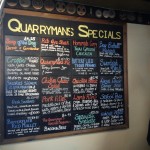 According to Rich's wife, India, we did rock up home rather later, and I have a dim recollection of him being very naked as we ate her cheese and gargled red wine, but as a result, I thought it was somewhat beholden on me to make amends with lunch the next day. Some of my dearest friends live in Box, about a ten minute drive outside of Bath, where they keep godkids I'm allowed to visit and spoil but thankfully don't have to keep or pay for. They were away for the weekend, but have previously introduced me to The Quarrymans Arms, which is so hidden away that you really need to know where it is to know it's there. But once you know, you know.
This place is a friendly gem. There's a lovely patio/beer garden with a stunning view of the valley and a hugely warm welcome inside if it's a little too chilly to fully appreciate those dark Avonic hills. Once inside, it feels like everyone is in on a secret. There's a regular menu and lots of special Specials. We took the marvelous Karl Spain with us, who ruined everything by having baked beans with his Full English (now is not the time for that debate) but the rest of us opted for lunch, as opposed to further offending my Full English/baked bean sensibilities.
Rich and India went for another sensibility offending item – a chicken and ham pie that was basically a really good combination of those items in a creamy sauce with some pastry floating on it. I don't mean to be overly picky, but that's not a fucking pie is it? Define pie. OK. Encased in pastry. Done. It wasn't a pie. It was, on the other hand, bloody lovely, as was my carrot and coriander soup with croutons. It was possibly the hottest soup I have ever had, and resolutely refused to cool down the entire time I was eating it, but that's hardly a valid criticism is it?
This was followed by Dover Sole with lime hollandaise and a little chilli. For £14.95. I know. If I'm going to be ultra critical I could say that it was possibly just a minute overdone, but luckily sole is hardy enough to cope and so was I. Life is tough sometimes isn't it? It was delicious, as was the ridiculously indulgent Banoffee pie that turned up at the end to remind us all that heart conditions are clearly something that happen to other people.
And then we all trooped back into the car and back to Bath for another lovely evening at The Komedia. There may have been more dancing. It is genuinely one of my favourite venues in the world – I got caught smoking outside it in 1986 by my chemistry teacher when it was still the Beau Nash Cinema, but my relationship with it has seriously improved since then. If you want a lovely weekend, I cannot recommend it highly enough, and it is well worth digging out The Quarrymans Arms while you're at it.
Apr 2012