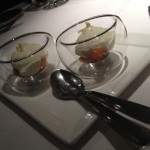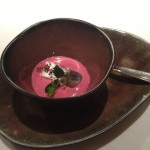 If you ever need chocolate, lace, waffles, beer, mussels or endless references to Martin McDonagh's rather good 2008 film, you will find them in Bruges. We took a short break there simply for the sake of it rather than because we'd accidentally shot any children whilst assassinating priests or wanted to find midgets dressed as schoolboys. We did climb to the top of the belltower, but were unable to throw ourselves off as all the openings are covered in wire mesh.
Bruges is a beautiful medieval city that has been attracting visitors for centuries before Colin Farrell turned up, despite what social media seems to think when you tell it you're going there. Some of the architecture might well be described as 'chocolate box', but then that's probably why it holds such a vast number of chocolatiers. We had a very pleasant time wandering around and hardening our arteries whilst trying not to turn our ankles on the cobbles. I suspect the combination of alcohol, confectionary, cobbles and canals make Bruges quite a dangerous place to live, but it's marvellous for a long weekend.
Inevitably we indulged in moules frites, chocolate fondues and beer stews, but a quick Google search had led me to the slightly more refined doors of Den Gouden Harynck (which I'm certain translates as The Golden Herring, but you try finding a free Flemish translation service online,) a one Michelin starred restaurant owned and run by Philippe and Marijke Serruys, which I was quite excited about, with, it turned out, very good reason.
The restaurant is located in a back street behind the main art gallery, making it both central and yet somehow a little like your own private discovery. We were shown into the smaller of two rooms – the larger held far more tables, here it was just us and another group which meant the whole atmosphere was perhaps a little more restrained, but also gave us ample opportunity to concentrate on the food. This was formal dining, but the staff were unstintingly friendly, welcoming and patient with a number of my idiot questions which all made for a rather special experience. We opted for the four course tasting menu, although an inability to ignore the cheese trolley, amuses bouches and petit fours meant we ended up with considerably more than that.
An initial shot glass of salmon with a wasabi cream and salted lemon was a palate tingling glimpse of things to come and was soon followed by perfect bread rolls, which kept on arriving (I was told to stop at three) as did a little marinated sardine with beetroot puree – a little too fishy for my other half apparently, but I thought the earthy beetroot balanced out the oiliness of the fish very pleasingly. I was pretty pleasinglied all round if I'm honest.
An opening salvo of scallop cerviche was one of those happy dishes where you can taste everything separately and yet it all works together beautifully. Raw scallop can be a bit soapy, but here it zinged with freshness, picking up little hits of balsamic, rock salt, dill, chive and miniscule shreds of cauliflower. Frankly I'd have liked more, but luckily M. Serruys knew what he was doing with portion size – not one of my strong points.
Seed crusted fillet of bream was cooked to perfection with the bite of the seeds married to the moist fish in a way that has seen me buy four seed mix from Tescos in what can only be described as a triumph of hope over expectation. Unfortunately, the arrival of ios7 means I can't work my dictaphone app properly and have forgotten exactly what the accompanying puree was (mushroom?) but it worked perfectly with some caramelized cabbage and basil dressing. This was  superb cooking, even if it is really annoying to eat it with a guy trying to work his dictaphone.
Luckily, I definitely remember the main course of small noisettes of pink venison topped with lardo and singing in perfect harmony with a quince puree, mushrooms, cranberries and lardons. I don't like Brussels sprouts and my girlfriend doesn't like parsnips so the fact that they both made such brief appearances on our plates should tell you everything else you need to know.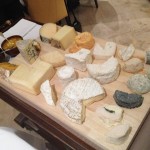 I'm not going to tell you about the cheese board. Just look at the accompanying picture and tell me you could have resisted it. Especially not accompanied by prune and walnut bread, homemade piccalilli and an apple reduction. Dessert was a martini glass filled with passion fruit and berries like the poshest fruit salad, elevated to something totally other with an anjelica herb ice cream and tuile that added texture, a change of temperature and even further sophistication, were that possible.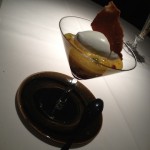 By now I was pretty much in a making funny noises and being told not to lick the plates kind of mood, and the waiter was lucky I didn't hug him when the complimentary petit fours, chocolate mousses and fruit jellies appeared. As did the chef to enquire whether or not we were being looked after, which we were very happy to answer in the affirmative. Our bill came in just shy of €200, without service.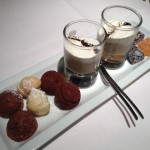 A small tip (literally) – you don't appear to be able to leave gratuities on cards in Belgium which was a shame as the service was faultless (sadly we didn't have much cash on us.) I'm not sure when I shall next be in Bruges, but one thing is for sure, when it is mentioned in future I shall be thinking a lot more about food being finished off than people. If you don't get the reference, watch the film. And then go to Den Gouden Harynck and eat the food.
Originally posted Dec 2013