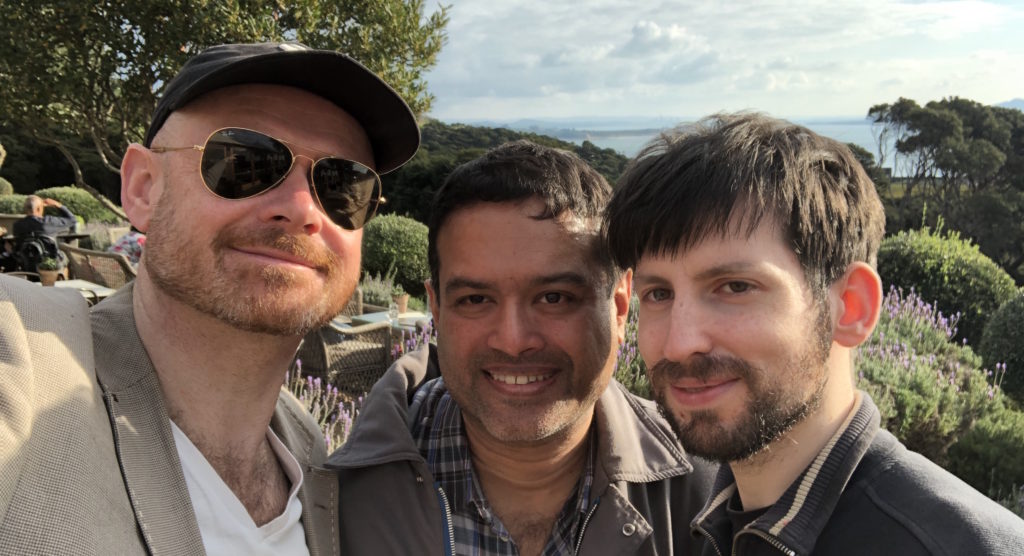 I've never been to New Zealand before. It's wonderful, as if someone had towed Scotland somewhere nice. It is, undoubtedly, a long way from home, but I had the pleasure of incredible hospitality from The New Zealand International Comedy Festival and especially Scott Blanks and everyone at The Classic Comedy Club. I was also lucky enough to be sharing the trip with several old friends, including Paul Sinha and his fiancée Olly, who were kind enough to act as my surrogate family when it became clear my wife was unable to join the trip for heavily pregnant reasons.
I have known Paul for twenty yearsand he is a superb, craftsman of a comedian, though still better known to the general public as 'The Sinnerman' from ITV's enduringly popular daytime quiz show 'The Chase'. He is a general knowledge fiend, who delights in pointing out when jokes contain factual inaccuracies (I know there are homegrown exhibits in The British Museum Paul, but it really doesn't help the punchline.) What I don't think any of us realized is quite what a sensation 'The Chase' is on New Zealand TV. It's on every day. Often twice. Most of us spent our first few days getting over jetlag – Paul spent his getting over how famous he is.
We have eaten very well. Regular haunts have included our local Asian food court, just down the road from us on Queen St, where Hanoi Corner do a particularly good pho. Unfortunately I had to pay for it, unlike Paul, who ordered from the Indian/Chinese next door and received his food gratis simply for being The Sinnerman. If you want a decent burger, you could do a lot worse than 'Burger Fuel' – a cracking Kiwi chain that needs to expand to England, although it might be worth sending Nandos with it, as the New Zealand outpost is not a patch on the UK version. There are any number of decent Koreans, a fantastic Szechuan (Yummy Dumpling House, indeed) opposite the hotel, a wonderful Japanese (Tanuki's) right next door to The Classic and even a coffee chain (Colombus) who do a breakfast/brunch menu so good it would get them kicked out of Crouch End for unfair business practices.
There have been some higher end highlights. In the first week, as we walked up the popular K Road, past the excellent Thai Street Food restaurant where we'd somewhat over-ordered lunch the day before, we came across Coco's Cantina. This was a superb Italian, offering a limited range of unimpeachable dishes, which we realized as soon as we looked at the prices, but by that time – well, we'd sat down. There was a little confusion until we worked out the best course of action was to divide a 'date menu' between Paul and me whilst Olly ordered a couple of separate dishes. This is perhaps not a move that would go down awfully well with most couples, but if I was being a terrible gooseberry, they were both far too polite to mention it.
There were beautiful breads, a wonderfully rich chicken parfait, goat's cheese with pear, charcuterie, and an excellent mushroom pasta (I think – it was Olly's and I didn't wish to intrude any further than I already was.) I also had broccoflower for the first time, which is exactly what it sounds like. There was a very creditable Scotch fillet with salsa verde and a fig leaf ice cream and rhubarb semifreddo to finish. The produce and cooking was of the highest order, chosen from a menu limited by authenticity rather than any sense of parsimony. There was also a complimentary grappa, but unfortunately we were unable to secure anything further on the strength of our celebrity companion. We did, however, get the entire kitchen staff coming to the table for selfies with him. They were charmingly polite about not having the faintest clue who Olly and I were, which was both thoroughly charming and completely understandable. Although Olly is the eleventh ranked quizzer in the UK and I did completely sell out my festival run, for future reference. (A younger person would probably put a winking emoji here.)

The best part of a trip to the island of Waiheke may well have been Scottish comedian Chris Henry yelling 'The Chase is on' as Paul ran for a late ferry. Luckily the captain waited until we'd all stopped laughing hysterically to allow us on board, which we thought might have been professionalism, but turned out to be because he was a massive Chase fan too. Waiheke is a delight. I have never been offered 'wine tasting and archery' before (what could possibly go wrong?) Nonetheless, the trips through the vineyards were both stunning and…refreshing. The Mudbrick Vineyard and Restaurant is an Auckland institution that really deserves a blog all of its own, but I'll just say I had A LOT of oysters followed by a stunning venison dish and I want to go back. Repeatedly.
Today is Sunday, and to celebrate our last day in Auckland, at lunchtime we went to the Grand Harbour Chinese Restaurant for Dim Sum. This is a must visit destination – a huge, bustling dining room with enormous lobsters in tanks and floor staff criss-crossing the floor as though they were driving demented mobility scooters loaded with goodies. We were found a table remarkably quickly, which I think is testament to the efficiency of the operation rather than their nascent celebrity guest.
That level of professionalism also extended to the food, which is probably the best Dim Sum I've ever eaten. From crispy chilli chicken wings to shell-on tiger prawns, there wasn't a false move, and we were constantly updating our order from the passing trolleys. I couldn't work out why a green bean dish was quite so tasty, until I came back to the hotel and Googled it to find out the lip-smacking umami hit came from pork and olive mince, which is a new one on me. There were beautiful, plump dumplings bursting gelatinous skins to reveal generous fillings of prawn and spinach. Pork bao buns, a cold chicken dish I didn't think I was going to like but did, and probably the highlight of the whole meal, roast pork. As Paul pointed out, this should surely be the signature of this type of restaurant, and it did not disappoint. Imagine the best pork belly you've ever tasted got married to a crispy duck and you were eating the result. Perhaps not a brilliant metaphor, but a sensational piece of cooking. I even had my first Chinese dessert – an oozing custard tart that gave Portugal's version serious competition. I still think I prefer the slightly more caramelized tones of a Nata, but it was a close run thing. Our overall bill came to just over $150, which was nothing short of an absolute steal.
Tonight, we went to see Paul's extra show at the 700 seater SKYCITY Theatre with a lot of the other comedians here and we could not be happier for him. I know how much he loves his quizzing, but he also takes his comedy equally, if not more seriously. Which is why, despite a wonderful performance to a capacity crowd, I still think his highlight of the trip may well have been the waitress at Grand Harbour, who approached the table to say,

"I know you. You're that comedian, aren't you?"
Auckland has been awesome, I know all of us can't wait to come back. I just think next time a lot of us need to start appearing on one of ITV's enduringly popular daytime quiz shows to really get our numbers up.



May 2019