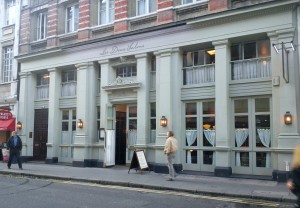 Sometimes, the best intentions are best left elsewhere. I had no sooner sat at the bar in Les Deux Salons to peruse the soft drinks menu than James O'Brien sat down next to me and said 'vodka martini, straight up, with an olive, hello Al', like my own personal James Bond. Moments later Nick Revell arrived and ordered the same, but 'gin, with a twist' and so I had to follow suit, although with an olive as I actually like martinis. Our choice of three subtly different variations might be a happy metaphor for why we work so well together on No Pressure To Be Funny, but I think it's more likely to indicate, as my girlfriend later pointed out, that 'you three are such fucking champagne socialists.'
The room is a real charmer in itself – having caught just the right whiff of Parisian grandeur mixed with something a little louche (some of these words are French) and bohemian (one is Czech, apparently.) We took our cocktails with us through a busy, but not hurried, restaurant and settled down with the menus and some excellent bread that didn't appear on the bill, for a change. One of the joys of working with my two companions is our propensity to have really good lunches on the pretext that we are in fact 'having a meeting', and so I should mention that this was our third visit. Previously, we have always gone for the set menu – very good value at £15.50 for three courses – but emboldened by 'chemistry' as James described the effects of his martini, it soon became clear that this wasn't going to be one of those meals. Well, we had made a saving on the bread.
James opted for a fish soup which he declared 'very fishy' by which I think he meant delicious, not suspicious, as were my Cornish sardines with lemon, capers, chilli and toasted sourdough. Nick had tomato salad 'forgotten varieties' which true to their word, I have forgotten, but which came with fennel and olive oil – hugely fresh and tasty yet subtly palate cleansing. Between us we had ticked one of every starter section except Les Terrines (lovely chap,) but I'm sure I shall be returning to correct that soon, preferably on a Friday, as that is the day that their classic bouillabaisse 'Marseille style' is one of the Plats du Jour. This was a Thursday, which offers Navarin of Lamb, but we were now looking to the next chapter heading on this extensive, but impressive menu. I'm often wary of this many dishes on one piece of paper, but as there wasn't one duff note (nôte d'uff?) in the entire meal, perhaps I shouldn't be.
The mains were superb. Luckily, we are three people who know each other well enough to spend a considerable amount of time passing bits of food across to one another, so I can tell you that James's calf's liver and bacon was both succulent and rich, as well as properly crisscrossed with carbon from the grill, and I am still smiling at the thought of Nick's bavette steak. Not always the easiest cut, this was handled perfectly – chewy yet tender and bloody and very, very tasty. In fact, possibly the only thing better was my saddle of rabbit – an absolute classic, executed perfectly; salty pancetta giving way to tender, moist rabbit and an offal stuffing that was borderline illegal. A beautiful carrot puree, spring chard and some stolen pommes frites made this probably my main course of the year.
All of this was washed down with a lovely Quatre Chemins, Pays du Gard, which felt like a snip at £18.50, and probably went some way to explaining the grabbing motions when the dessert menu arrived, and the decision to have a carafe of Sauternes from it, among other things. My tarte au citron was everything I expected – it is exactly the sort of dish that this kitchen would seem unable to get wrong – but the real stars were two iced peanut butter parfaits with roast banana. This dish alone means I am under pain of death to visit again and was sweet, crunchy, cold, hot and probably as bad for you as it felt good.
We couldn't resist finishing off with a small plate of cheese to share – a lovely Rocquefort, surprisingly good smoked cheddar (smoked cheese usually reminds me of school dinners and plastic,) an ash coated chevre and something that was distantly related to Chaumes in that it tasted heavenly but would still make your fingers smell if you picked it up. Thoroughly sated, we ordered coffees, and Nick and I had a couple of Trepout VSOP's – James opted out at this point as he's got something called 'children' who were going to need 'picking up' later in the afternoon, while Nick and I ventured into Soho. After a couple of drinks, Nick headed home, while I ended up being roared at about Jesus by a Scottish actor who had seemed perfectly good company up until that point. None of this was enough to detract from the memory of a quite exquisite meal – at £225 including service it was by no means cheap, but for what we had I still think it was great value, if not of the everyday kind. I don't do stars, but Les Deux Salons would get five, and is one.
Sept 2011
No Pressure To Be Funny will be starting a two month weekly run at The Leicester Square Theatre from Oct 12th. Guests already confirmed include Clive Stafford Smith, Rich Hall, Miranda Sawyer, Andy Hamilton, Mitch Benn, Matthew Norman, Holly Walsh, Paul Sinha and Matt Forde. A Christmas show – No Pressure to Be Festive – will be taking place on Sunday Dec 18th.