The Festive season. A time of peace and joy to all mankind, unless of course you are a comic, in which case it is often a time to be ignored loudly by large groups of people who are unsure why there's someone nearby not talking about them into a microphone. Why do we do it? Well, the money, obviously, if not the huge sense of artistic satisfaction. Having said that, I had a perfectly pleasant December, and if the worst Christmas gig you have is one slightly rowdy night out of three pretty good ones at the Comedy Café you can count yourself lucky.
I had a short run of shows at The Junction, which I'd not visited since a trip to see A House support The Blue Aeroplanes nearly twenty years ago – which will mean nothing to those of you who are not aficionados of early 90's indie bands. It was excellent incidentally, and if you get nothing else from this review, do yourself a favour and get hold of a copy of Swagger. You'll see what I mean.
I used to visit Cambridge quite often in those days as two of my best friends were studying how to be braying alcoholics at the rugby club, sorry, University. Actually, that's terribly unfair (on one of them,) but the city always fascinated me with its mixture of brilliance and privilege, the two of which did not always go hand in hand. I hadn't been back for some time, apart from playing the Magdalene College ball a couple of years back which pretty much reinforced my old prejudices, but what I noticed this time was how homogenised this undeniably beautiful city has become. The same old names you see clogging up every high street somehow become more depressing when they're overlooked by King's College at Christmas and you can hear the choir practicing.
To be fair, I hadn't done any particular research as regards restaurants, which may explain why we ended up in Pizza Express. I have nothing against Pizza Express, in fact I rather like it. It's hardly foodie heaven though, and I wouldn't have mentioned it had I not ordered a Da Morire Romana pizza – Gorgonzola D.O.P, caramelized leeks, artichokes, pancetta, rosemary and chilli oil on an extra thin base. Apparently it was dreamt up by one Simon Pritchard from over 60,000 entries to win their 'Create Your Pizza' competition and I can genuinely say it is one of the nicest pizzas I have ever eaten. I even tweeted about it. The saltiness of the gorgonzola (with a bit of help from the pancetta) lifts everything to another level, nicely rounded off with a little chilli kick. No more Mr Fiorentina (with mushrooms instead of olives) for me. I have found my pizza. Everything else was, well, Pizza Express, which might explain why they've been doing so well for so long. Having said that, a week later I was in Norwich where there is a branch attached to the gig, and I have to report that they slightly overdid the oil, making for a greasier experience, which I suppose just goes to show that every Pizza Express really is different. Except it isn't, is it, and that's why we like it – at just over £20 for two it's a pretty reliable option on other fronts too.
The next day, partly because of some decent write ups in the window but mainly because good Chinese restaurants should always be full of Chinese people (© my parents' generation) we decided to try Yim Wah Express for dinner. Clearly everyone eats in a hurry in Cambridge. At this point, I must recommend their website as it gives you a better virtual tour than I can. The place was not quite full, but had a nice buzz about it, with friendly staff and an interesting looking open kitchen at the far end.
The menu was fairly extensive, as they tend to be, including some interesting challenges such as shredded pigs stomach and garlic broth, but we were only after a light supper. A starter of soft shell crab was very tasty, although the batter was a little dry and floury. Honey roast pork was delicious – moist, rich meat with a nicely sweetened crust and plenty of rice, mopped up with kai lan (Chinese brocolli) and oyster sauce. I had gone with the chef's recommendation of beef with chilli oil Sichuan style. This is similar to the food cooked at one of my favourite Soho haunts, Golden Day on Shaftesbury Avenue, although there it is Hunanese rather than Sichuan, but one thing both traditions have in common are chillis, and lots of them. Look at the picture – it's quite an odd feeling to tuck into your meal knowing that you are seconds away from sweating like someone doing something wrong somewhere inappropriate.* However, when done well, as it was here, the heat enhances the ingredients – in this case beef, aubergine and mushroom – in a way that makes the dish much more interesting than merely fiery.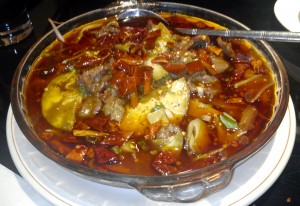 I have to say I prefer the Golden Day dishes I have tried (principally the sea bass and the chicken) mainly because they were less oily, but this was still a success, in a restaurant I would definitely return to. They've got pigs ears and trotters that need trying another time, and this is clearly a kitchen that knows it's way around a pig, even if I wasn't being one on this occasion.
Appropriately enough, at this point we had to fly. The bill came to a thoroughly reasonable £37, excluding service. I would like to have paid with my American Express card for thematic reasons, but I don't have one. Instead, I contented myself with patting my stomach and saying 'that will do nicely' as I left for my gig, and played The Blue Aeroplanes loudly in the car on the way home.
Dec 2011
*comedy staple – feel free to add your own ingredients.