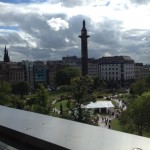 So the dust has settled on another month of madness in the frozen north, which was in fact remarkably temperate this year – weather wise, at least. I had one of my best festivals ever – great audiences, plenty of extra gigs and delightful reviews, more of which you can read about here, should you feel so inclined. Other highlights included a car thief outside my window managing less than two yards in a stolen BMW before crashing it and my flatmate Mick Ferry asking "Which end?" upon being introduced to someone from 'War Horse'.
As a result of my involvement in Peter Buckley-Hill's excellent Free Fringe, I also managed to not lose thousands of pounds, which, to the uninitiated, is what happens to the vast majority of comedians who are forced to hand out enormous sums to publicists, venues, printers, designers and indeed any passing Scottish person with a hovel to hire simply in order to do their job for a month. Our flat was far from brilliant (it was still over £3k for the month when normally it is rented out for £850) but it was a gigantic improvement on the one we were originally allocated. I cannot begin to tell you how relieved I am that it was Mick rather than Hal Cruttenden who got there first to 'explain' (in no uncertain terms) to the young estate agent that we weren't going to stay there. Hal phoned me from the M1, and you haven't heard panic til you've heard the voice of a camp man with a phobia who thinks he's heading to a flat containing mould and mousetraps. I don't think we'll be using Southside Property Management again.
The Edinburgh festival is a strange beast which is very difficult to explain to anyone who hasn't been there. It is extremely easy to live a dissolute lifestyle involving little exercise beyond running from one late night gig to the other, before heading to one of innumerable bars full of people in the grip of the same madness and then stumbling home at an hour when most decent folk are considering getting up. Therefore, it is important to eat well, and believe me, this year I did.
I'm a great fan of sushi in general, but particularly when I'm pretending to be healthy, and as a result, I had far more lunches at Bonsai than were necessary. Just up the hill from the Pleasance courtyard, it is an excellent spot to stock up on miso, gyoza, nigri, sashimi and whatever else takes your fancy. Service is casual but friendly, and the whole experience is about as unpretentious as raw fish in Scotland can ever hope to be. I think I managed to spend over £30 on one occasion, but I did have trouble moving afterwards. Like most places, they are happy to accept your money if you want to splash out, but they also offer good value bento boxes and there is a daily changing specials board.
Service was also friendly at Koyama on Forrest Rd, which I tried a couple of times as an alternative, but loses hands down to Bonsai on two fronts – firstly it has replaced a perfectly serviceable Italian I used to go to a lot even if I can't remember its name, and secondly, if a small helping of edamame beans cost £4.50, imagine what everything else costs. The sushi isn't bad, but whoever put their set menus together is not the sort of person I would want making me a mix tape, which is an old fashioned way of listening to music for our younger viewers. Bonsai is a five minute walk away, the sushi is better and everything is much cheaper.
Next door to Koyama is MUMS, which serves a brilliant vegetarian haggis, neeps and tatties with a luxurious veggie gravy. Apologies to Scottish purists here, but I wanted vegetables and I wanted comfort and that is exactly what I got. Round the corner is Favorit which is not going to set anyone's world on fire, but I had reasonably good chicken fajitas there with Marcus Brigstocke after Simon Evans and I appeared in his improv show 'Unavailable for Comment,' and returned on my own a few nights later for a really quite good cheeseburger and chips with a glass of white wine because sometimes you just know what you want and you prove yourself right.
This is all within spitting (or staggering) distance of Bristo Square which, since the rise of the Underbelly and the Purple Cow has become the comedic epicentre of the festival in the Old Town. One tends to make numerous (almost nightly) visits to the Gilded Balloon for work and play and food. There are some great burger joints and pulled pork opportunities, Dragon noodles were very good even if they took a while coming (but then they are freshly made…) and special mention should go to The Juice Cauldron which is often the last defence many performers have against scurvy for the month. If you fancy a quick wander down to George Square, there are further opportunities to be separated from your cash, although I would say it has to be the Thai porkbelly salad served out of a metal caravan for me, even if you are late on stage to compere Best of the Fest in the Spiegeltent as a result.
I could name many other places – breakfast at Victor Hugo Deli overlooking the meadows is always a pleasure, and I will always find myself in Ciao Roma at least a couple of times for solid, if unspectacular, Italian food. This is a little unfair on Ciao Roma who also do excellent homemade ice cream, but unfortunately they do pale into insignificance in comparison with one of my (and many others') favourite Edinburgh eating experiences. Bar Napoli on Hanover Street is an institution, and with good reason. Open all day, with a menu so long you'd be suspicious if it wasn't for the fact that the kitchen is always bubbling away with activity and amazing smells. You can't attempt authentic, you just have to be it, and the food here has been an ongoing pleasure to me for years.
This year I popped in on a visit to the New Town and started with a very generous plate of vegetable antipasti, with excellent mozzarella, a drizzle of balsamic and good olive oil, which nearly left me too full for my cuccina (fish stew) until it arrived, garlanded with garlic bread and wafting fishy tomato garlicky goodness at me. The best way I can describe the place is that when one of the chefs saw me taking pictures of my food, he brought over another dish to photograph. Any chef who is so proud of his cooking he wants to show you what you failed to order is alright by me, and I think that little incident sums up everything I love about Bar Napoli. Indeed, I took my girlfriend there when she visited, and I'm happy to report the minestrone, the halibut and the maccheroncini were great too, but then they would be, wouldn't they? At under £30 for two they were also very good value, which is just another reason to go.
It's worthwhile popping in to Harvey Nichols Forth (see what they did) Floor Brasserie if you're in the area, if only for the view, although I did have half a dozen oysters and a very nice ham bagel and chips while lamenting my inability to afford anything downstairs as they'd already cost me £25. Having said that, I am unlikely to return as I noticed from the menu that they were producing a couple of shows in association with 'Funny Women', a dreadful organization that charges comedians to enter its new act competition and does nothing of value for women or comedy, as can be seen from the number of companies including Nivea, Dove and, er…Babycham that have worked with them incredibly briefly. The same can be said of a number of excellent comedians including my good friend Jo Caulfield who no longer want anything to do with them. Harvey Nichols probably didn't know any better, but I imagine it does now.
I do like to try and go for a proper 'event' meal (or two) when I'm up in Edinburgh. Last year the No Pressure To Be Funny crew went to the brilliant Sweet Melinda's, which to my shame I didn't blog about, mainly because it was more fun to write about the fairly awful time Hal and I had at The Witchery instead. In the meantime, an online piece I wrote about it did make it into a book this year – Secret Edinburgh – so that will have to do for now. This year, however, on our night off, Cruttenden, Ferry and I piled into a taxi and headed down to the Leith branch of Fishers, about which I'd heard fabulous things, to spend the £100 mouse related refund we'd been given by our landlords.
We walked in to see our friend Phil Nichol and his girlfriend already sat at another table, and it soon became clear that Eddie, our fantastically helpful waiter, was very much used to festival types turning up for excellent seafood in a thoroughly convivial atmosphere.
We began with fishcakes, beef carpaccio and langoustine tails with garlic and herb butter, which were uniformly excellent, washed down with a bottle of Muscadet which was perfectly ok, but probably not my finest choice. I also ordered three oysters which I wasn't charged for when the bill came because it's just that sort of place and Eddie's just that sort of guy. Which is exactly why I returned there for lunch when my other half came up for the weekend.
Main courses were equally impressive – a very good steak for Hal who inevitably worried that he was offending someone by not ordering seafood, superb King scallops with crab and potato salad for me, and the stand out dish – Mick's Aberdeen smoked haddock with black pudding crumb which was a perfectly cooked combination of tastes and textures and about as Scottish as you could get without having Mel Gibson make a film about it. We bravely made our way through a very nice bottle of Barronie de Coussergues house red, and then tidied up with pavlova, sticky toffee pudding and ice cream. Eddie then managed to sell us a combination of sherries that he was kind enough to write down for me, but I think you should just get along and try them for yourself. Each was worth the trip. Our bill came to a very reasonable £150 for a truly memorable meal in wonderful surroundings, and we poured ourselves into a cab home before things got messy.
A week or so later it was a pleasure to once again be greeted by Eddie and explore the menu further. We were not disappointed. Red mullet with a gooseberry compote was an unabashed delight, with a perfect balance of acidity and meatiness, while fish soup was a solid opening gambit across the table. I then had to have the very, very good lobster (the last one, apparently – for future reference you should always order ahead,) while herself went for the haddock and was every bit as impressed as Mick had been. My crème brulee was everything it should have been and I would suggest that the phrase "I actually think that's the nicest sticky toffee pudding I've ever had in my whole life, ever," is pretty much the last word in sticky toffee pudding criticism. The bill came to £82 excluding service, which was again excellent, and again included some freebies (more langoustine tails) for which we were not charged. For the second time in a fortnight I left Leith a very happy man.
On the last weekend, my brother and his girlfriend came to stay and took me to one of their discoveries, which I must also recommend wholeheartedly. Despite being a large and promisingly retro decorated room, it still appears we were lucky to get a table at
Spoon
on Nicholson Street for a very late lunch/early supper. It has that pleasing bustle and confidence of a place that knows exactly what it's doing on a reasonably large scale, but still retains a certain intimacy. Our waitress was a keen combination of efficiency and warmth, and a wild mushroom soup and smoked salmon with home-pickled cucumber were both faultless, although not quite as good as the chicken and ginger broth my brother ordered – a perfect Edinburgh festival dish if ever there was one. I was very boring and went for salmon with green beans and new potatoes on the understanding that it was a dish that left the kitchen nowhere to hide, which was a challenge they rose to effortlessly. Perfect crispy skin, moist flesh, the health giving properties of French beans and potatoes for carbs, which were much needed as I rushed off to another show, leaving my brother with a slightly spiced Toulouse sausage resting on a warming bean casserole and his girlfriend's perfectly cooked pork chop with greens. I don't know how much it all cost – although prices were far from extortionate – and I cannot wait to return. Which would pretty much sum up my entire month. For all its inherent craziness, there is a reason I have been visiting the Edinburgh Festival for twenty years, and now I have even more reasons to return. On the way home, we stopped at the award-winning
Tebay services
which deserve a blog in their own right, but that must wait to be written, as must Sweet Melinda's – not to mention next year's show, and perhaps a guidebook on which Edinburgh estate agents are best avoided if you don't want to start your festival with a bout of mice-based hysteria.
August 2013