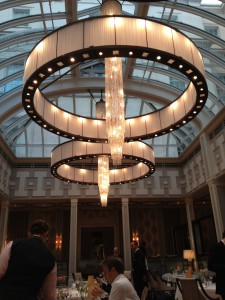 It's not often you open a menu and actually gasp, or rather inwardly gasp as to do so audibly might get you turfed out of the restaurant on the quite reasonable grounds that somewhere like this was not meant for people like you. Starters hover around the thirty pound mark, though you'll need more than ten times that if you fancy the caviar. In common with most non-billionaires, part of me dislikes eating in that rarified atmosphere where you feel permanently on your best behaviour and another part really loves to see how the other half live. (Half? Half? Who came up with those figures?) Luckily, Toptable offers you the occasional opportunity to snoop more effectively than an American government agency and I am perfectly happy to act as whistleblower on the understanding that extraordinary rendition is something that rarely happens to food bloggers.
Heinz Beck is a three Michelin starred chef who is now strutting his stuff at Apsleys at the Lanesborough Hotel on Hyde Park Corner, and, because everybody needs to eat, is offering an extremely good deal for those of us who fancy nosing around his beautifully appointed art deco dining room. A mere forty-five pounds gets you three courses and a glass of rather nice fizz with the opportunity to sneer at those frightful nouveau riche Wellingtons over the road thrown in for free.
Apsleys being the faynest of fayne dining establishments does of course mean you get rather more than this – your bouche is well and truly amused. Service is exquisite – attentive and better drilled than the armies of him-over-the-road, even if one operates from a permanent position of worry that they're about to inform you there's been a terrible mistake and ask you to leave. To be fair, this is a far more telling reflection of my insecurities than my experience, and it was with some excitement I chose quite a lot of breads from a fairly dizzying selection and took a sip of my rather excellent Franciocorta.
I'd describe the menu as modern Italian with German precision, beautifully presented, and the tone was set with a delightful pre-starter of pea and ricotta mousse, finished with a carrot air, which was far more than the sum of its parts and considerably less pretentious than it sounds. The set menu offered three choices for each course, and we began with a sea bass tartare in bread crust with cantaloupe melon which was more than acceptable, even if the overriding flavour was of the fried bread the fish was wrapped in. Luckily, that is a flavour of which I thoroughly approve. As are Frazzles. I would like to apologise to Mr Beck for our appalling lack of couth here, but as my other half tucked into her exquisite poached (or sous vide?) veal salad with an astonishing tuna sauce, she proffered me a cube of veal jelly with the words,
"What are those crisps, you know, like bacon?"
And she was right, too. Salty cubes of deliciousness perfectly accompanying the softness of the meat and the slightly tart fish.
We were very much up and running now, and about to experience the poshest battered fish I have ever laid taste buds on. My only criticism of cod goujons, in a light tempura with cherry gazpacho and thinly julienned celery with edible flowers was that there weren't more of them, but at these prices for this standard of cooking I can hardly complain. The accompanying dish was not only the best thing we ate, but also probably the best advertisement for what this kitchen can achieve. Amaranth is a type of cereal I had never come across before – tiny grains not unlike quinoa, but served wet with a poached egg, like the most exquisite porridge you've ever tried. Each expertly turned vegetable somehow tasted more of itself than the one before, complimented by purple and yellow flowers which made this incredible dish a feast not only for the eyes and stomach but also the memory.
A zinging amuse-bouche of deconstructed lime cheesecake paved the way for desserts that you just knew were going to be so pretty it was almost a shame to eat them, but a mango mousse with poppy seed parfait and rosemary ice cream and a millefoglie with Chantilly cream and cherry sorbet both belonged in a gallery as much as on a plate. Which is not to say they were not a triumphant end to a meal of already considerable highs.
Just when we couldn't have been much happier, a tray of handmade petit fours arrived at which point it became abundantly clear to me and my other half that we may not ever be the other half, but we're very keen to visit occasionally, especially if they make us feel this welcome. With a couple of bottles of water and service, our bill came to £111, which for an experience like this is well worth the money. In fact, if you can't face spending hundreds on a meal, may I take this opportunity to thoroughly recommend indulging in a little light spying on both the Italians, Germans and whoever else you might find in this corner of West London. Just make sure you've got your Toptable password to hand, as otherwise you may be forced to do the washing up for quite some considerable time.
July 2013