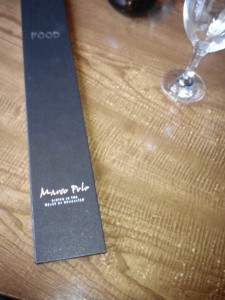 Despite its reputation for arctic temperatures, the weather in the North East seemed to be entering into the spirit of the Christmas/New Year hiatus by taking the week off too, which was handy as I went naked in order to fit in with southern preconceptions of the Geordie dress code. This allowed me to walk around the disgracefully picturesque town of Yarm in nothing but a scarf and happily munch a curd tart from the local bakery completely anonymously. Unfortunately I blew my cover by continually saying 'Yarp' like the bloke from Hot Fuzz because I thought it was funny, until someone noticed and made me remove the scarf.
I can report with some certainty that Eaglescliffe has one of the least attractive train stations I have ever visited, although the train that brought me to it was quick, clean, spacious and properly wi-fied up so as a result I have decided to take Grand Central Rail to all my destinations in future. I'm sure this won't be a problem because, as we all know, the entire rail network is now predicated on being a bastion of choice for the 'customer' rather than an antiquated, over-priced anomaly that doesn't do 'passengers' and would be put to shame by nineteenth century India.
Speaking of India, the last time I ate vegetarian food was at Rajdhani Thali, and to be frank, as a somewhat helpless carnivore, it is not an option I return to on a regular basis. Morally, all the arguments for vegetarianism receive a resounding tick from me, but then again, so does the smell of a bacon sarnie. However, Eaglescliffe does have an award winning vegetarian restaurant called The Waiting Room, which slightly makes up for the lack of one in the station next to it (a waiting room, not an award winning vegetarian restaurant.) I really don't think it's right to review a meal you've been taken out for, so I shall be brief, but I would like to say that their pea and pistachio roulade was a thing of beauty – one of those unusual vegetarian dishes where you can say you didn't miss the meat at all and actually mean it. All five of us were similarly impressed (my hosts are regulars) and as I washed everything down with some very tasty Long Wall Mouse Blonde Beer, I reflected that eating less meat was something I must file away with all the other New Year's resolutions I'm not going to keep. Proving that there's no such thing as a holiday from this business we call show, The Waiting Room also doubles as an occasional performance venue, and comics who have played there include Stewart Lee and Josie Long, so they've got pretty good taste in comedy too.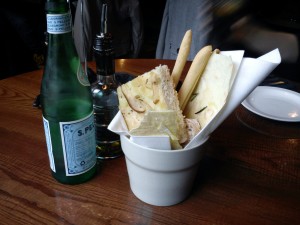 This part of the world has not been tremendously well served by the comedy industry in recent years. Despite the brilliance of Geordie comics such as Ross Noble, Gavin Webster and Jason Cook, there has been a noticeable absence of decent venues for them to perform in. The Hyena was the only comedy club for miles, but now there are excellent gigs (so I hear) at the Stockton Arc and perhaps most significantly, The Stand has arrived in Newcastle. Rather than gush too much, I'll just say that I wish all clubs (festivals and probably countries) were run with the same ethos that Tommy Sheppard brings to his quietly growing empire, and I cannot wait to play the Newcastle Stand in April. I'm quite excited about the Glasgow one the week before as well, but I've played there many times, so I already know it works, even with this accent.
One of the other reasons I'm looking forward to going back is Newcastle itself, which has a rugged handsomeness that is perhaps missing from its more effete Georgian cousins, Bath and Edinburgh. It also has some stunning newer achitecture – including the Millennium Bridge, the quite beautiful Sage concert hall and the Baltic Centre – I know the last two are in Gateshead and the bridge takes you there, but I doubt you'll hear them complaining. In addition to this there is a very good Italian restaurant in the shape of Marco Polo. To be honest, from the outside it looked a bit bland and corporate, but once inside it had that cheery buzz of a popular place that knows what it's doing, and the dark wooden interior had a kind of cosiness that put paid to my initial reservations. The menus themselves (see photo, above) are a bit faddy – long thin things that fan out – but the contents divide nicely between those dishes you'd expect to find in a city centre Italian and a few surprises. A basket of breads including a quite brilliant pear focaccia served with very nice Colovita olive oil and balsamic vinegar further improved my (already quite good) mood.
I managed an emphatic return to my meat eating roots by ordering a whole plate of the stuff, raw. My carpaccio di manzo was delicious – good beef with lemon juice and olive oil nicely enlivened with shavings of truffle, parmesan and a selection of micro herbs including baby beetroot shoots. For mains, a beef ragu was rich and hearty, pepped up by chianti, rocket and ricotta that was, nonetheless, no competition for my rabbit and leek cannelloni. The meat was ground down with the leek, beautifully seasoned, and then given a hefty kick by the wild mushrooms which, along with some dots of pesto, gave a lightly creamy mascarpone sauce the desired lift. I don't often order pasta, but here I was very glad I did. Employing my customary restaurant meerkat stance, I was able to peek at other people's dishes and it struck me that Marco Polo is the sort of place you could go for both a major celebration, or the quick lunch that we were after. That is not an easy trick to pull off, and sure enough, as we were leaving, a large party of children entered the building, so that was lucky. The bill, not including excellent service, came to just over thirty pounds, which seems reasonable, even if I did rather spoil any savings by going and blowing a load of cash on a Vivienne Westwood suit half an hour later. In my defence, it was so massively discounted in the sales I couldn't very well not buy it, and I do need something to wear in April, if only to stop perpetuating ghastly comedy stereotypes.
Dec 2011