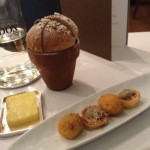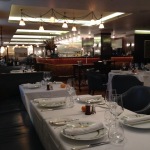 Well this is all getting very tedious. As anyone who knows anything about reading or writing reviews will tell you, the bad ones are the best. Looking back at my past few blogs, I've been on a bit of a winning streak recently. What I need, and I imagine would be preferable to read about, is an absolute stinker of a meal, served in a rusty bucket by a filth-taloned gorilla with poor social skills and a personal aroma masked only by the stench from an open sewer masquerading as a kitchen.
What we've got is Corrigan's, which is about as perfect a restaurant experience as one could wish for. One of the great pleasures of writing this a couple of weeks after the event is that I get to relive the experience – taste is the sense most closely connected to memory and just looking at the pictures is causing me to salivate. However, I am writing this on a plane back from a gig in the Middle East, so you'll be glad to hear that any residual taste memory is about to be wiped out by the imminent in-flight meal. I would have written this sooner, but I've spent the last two weeks (when I haven't been on the road) demolishing and re-building two bathrooms with my father-in-law, which is time-consuming but ultimately rewarding hard work, and very difficult to interrupt with the words 'Excuse me but I'm just nipping off to write a quick restaurant review'. I could have written a DIY blog, but I think we can all agree that 'Bathroom Ponce' has a rather unpleasant ring to it, so to speak.
So, two weeks ago my better half surprised me on my birthday by taking me to a restaurant for lunch. This in itself is not a surprise, but the destination is. Last year was Tom Kerridge's rather marvelous Hand and Flowers, this year the turn of another Great British Menu champ and all round foodie demi-god (to those that care about such things,) Richard Corrigan. I have eaten in Bentley's, his Picadilly seafood restaurant, a couple of times, and thoroughly enjoyed, if not quite loved it. I also visited his former flagship, Lindsay House, but this was, to quote Tina Turner for no reason whatsoever, simply the best.
I loved the room for a start – someone has managed to design a restaurant that looks chic, classic, modern and yet slightly old-fashioned all at the same time. You try finding a shade of blue that tasteful for your leather banquettes. Service was more or less impeccable – they stopped pouring water every time we took a sip almost immediately when asked, there were profound apologies about getting our (very good) cocktails the wrong way round, and most importantly the staff gave the impression of being complicit in a special occasion, which for us it was, even if it was clearly less so for a number of diners waving some fairly hefty expenses claims around nearby.
We opted for the tasting menu, which is not cheap at £75 a head, but still represents excellent value, even if we did start with kale on toast. Actually, we didn't – first we got flowerpot bread which was rendered charming rather than twee by the simple expedient of being great bread, and a couple of amuse bouches – individual mouthfuls of wild mushroom vol-au-vents and a quite incredible goat's cheese stuffed battered olive, which remains my partner's high point of the meal. That is not to do down the rest of the meal. That is to say it was a pretty spectacular olive.
Then came the kale, and all was well with the world. Apparently bought all the way from Corrigan's estate in Ireland (you mean you don't have one? What have you been doing with your life…) this set the tone – simplicity and refinement in one perfect plate. A crab dish was elegance personified, but not afraid of a proper chilli kick that ensured all parts of the dish spoke for themselves and each other. Farmhouse terrine was about as rustic as you could get away with in fine dining terms, and it was this balancing act that propelled the meal to such dizzying heights. Proper, hearty ingredients – John Dory, braised short rib of beef, grouse, all treated with complete respect, but also amazing ingenuity – a half-bone of marrow and an indescribably good spinach puree with the beef, for instance, but cockles too. A few ribbons of pickled courgette with the terrine. I'm not going to list everything, but this was pretty much all you'd ever hoped for when being fed by Richard Corrigan. Hell, they even threw in a free dish – rolled lamb neck on a risotto spiked with endive and shots of coriander – and again, an unexpected touch, slices of pear on top that wouldn't have been missed, but were so much more appreciated for being there.
Dessert was just spectacular. Well, a chocolate cream was merely very, very good, but even at this distance, thoughts of my prune and armangac soufflé almost bring a tear to the eye. This was one of those desserts that was almost like falling in love. In fact, from the moment a perfect custard was poured into it from a silver jug, it wasn't like falling in love at all, it was the real thing.
Double espressos and macaroons bought on an oven tray finished things off with both class and a homeliness that hit all the right notes, and completed a lunch I may now be looking back on with a rose-tinted glow, but one that seems thoroughly deserved. It wasn't cheap, but then special treats shouldn't be, and anyway, I wasn't paying. The temptation to add a smiley face here is almost overwhelming. It was still considerably better value than most other high end establishments I have visited, and they also do a two and three course lunch menu that hovers below thirty quid which I would urge you to check out immediately, should you find yourself at a loose end with a desire to splurge a little extra cash in Mayfair, as you do. Go on. It's almost Christmas.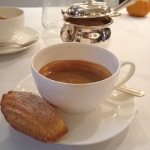 So. If you want a bad write-up, I'm afraid this time you'll have to look elsewhere. I couldn't recommend Corrigan's highly enough – especially if you're after a restaurant that really lives up to the idea of being a destination in itself. I can't buy a bad meal right now – after paragraph 2 I paused for Gulf Air's tandoori chicken and rice and it genuinely tasted nice. Either my tastebuds have been dulled by brick dust, or I'm due a fall. When the bad meal comes, as it inevitably will, it's going to be a long way down in every sense.
November 2014