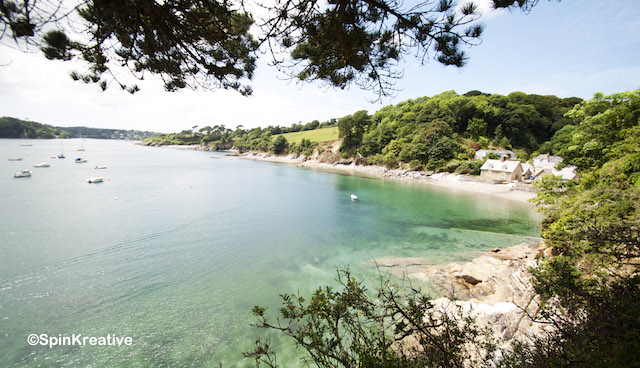 Glastonbury was tremendous as usual this year, if possibly muddier than Michael Gove's name in the Boris Johnson household(s.) Some people insist the mud makes no difference to their enjoyment, but they are usually lying, still on drugs or watching the television coverage. We had a brilliant time and I thoroughly enjoyed both watching and performing, but after three days of squodging around in ankle-deep gloop, we fancied putting our beautifully toned calves and (trench) feet up for a couple of days somewhere a little more restful. Happily, my wife had secured a job photographing (www.spinkreative.co.uk) a friend's apartment a couple of hours down the road in the ridiculously picturesque Cornish village of Helford Passage, and presumably on the strength of her free Glastonbury ticket, allowed me to come with her. So, three days at the world's best festival followed by three days in Cornwall and all tax deductible – wouldn't it be nice if all business trips dovetailed so conveniently?
I defy anyone who comes to Cornwall not to love it and it has been far too long since I've spent any time there. Helford Passage might almost have been constructed as an advert for the Cornish Tourist Board, which is going to need all the help it can get now they are realising that if you vote to leave the EU, it is unlikely to continue sending you those nice subsidies you've been enjoying for the last forty years. Located at the estuary of the Helford River, like many of the villages in the area, visitors can't drive right down to the shore as there simply isn't space. A lot of this is occupied by the quite fantastic Ferryboat Inn, a mere stumble from our small but perfectly formed apartment, which was handy as they also have a small but perfectly formed selection of Cornish Ales on draught. If you were writing your spec for a perfect pub, it is entirely possible you might come up with The Ferryboat all by yourself, but luckily you don't have to as someone else has already done it for you. Youth unemployment is a huge problem for the area, but one of the upsides is that everywhere we went was staffed by incredibly friendly yet terribly efficient twenty year olds, who probably had more qualifications than most of the people they were serving. Still, if I came from Cornwall I don't imagine I'd want to leave either.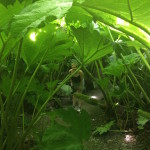 There is a pool table (but out the back so you won't get annoyed if you get annoyed by that sort of thing,) plenty of seating at the front to appreciate the views across the estuary, and then casual restaurant style seating throughout the main bar to appreciate the views across the menu. My grilled mackerel was as perfect as taking a mackerel and grilling it could be – crispy skin, juicy flesh packed with flavour and a homemade tartare sauce for which the phrase lip-smacking was probably created. But the star turn was my wife's chowder, a serious soup with a proper hunk of hake bobbing around in it. To describe flavours this deep as 'comforting' seems to be doing them a disservice, but this was so good it would probably have put you to bed and read you a story before doing the washing up. And they brought us chips because 'they'd just made some'. I mean – come on. A lemon posset topped with a blueberry coulis and candied almonds was again perfectly executed, and two hours into our mini-break I was already considering making an offer on the apartment.
When I was a child, I hated going for walks. I never saw the point. I ruined multiple family outings sulking over some cliffs or stomping disconsolately round a monument. My principal objection was that any walk that started and ended at the same point was, logically, a complete waste of everyone's time, and I still think I had a point, but surely one of the clearest signs of getting older is an enjoyment of walks for their own sake. This is very easily done in Cornwall, and the next day we walked along the coastal path, then doubled back and visited the beautifully maintained Trebah Gardens. There aren't many sub-tropical gardens of the ooh and ah-ing variety located anywhere else in the UK that aren't under glass, and it's one of those places that makes you realize with horror you are considering joining the National Trust. There is also a lovely café doing a small selection of light lunches very well indeed – we both had quiche because it felt like a very quiche place, and they were excellent. There were also Bakewell and treacle tarts with clotted cream to die for. My mum would absolutely adore it, which is a much higher compliment than it sounds.
In the evening we repaired to The Old Red Lion in nearby Mawnan Smith – another proper pub, with a thatched roof, bar propping locals in the snug and the requisite helpful, youthful staff. I'm not sure I've had Megrim Sole before, and while it's not going to win any beauty contests, it was nicely cooked with a simple lime and caper butter, as was a whole plaice with a garlic and herb version. Desserts were less inspiring – I don't think I'll be rushing back for the Triffle (sic) Torte – but it's certainly not the pub's fault the main thing I will remember it for is watching England lose to Iceland at Euro2016 in the worst performance I have ever seen. If there's one thing that's likely to push the Cornish towards independence, it's probably the realisation that statistically, they probably now have a big enough population to beat the rest of the country at football.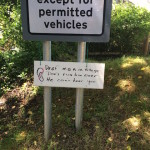 We were told one of the highlights of a trip to Helford Passage is taking the ferry across the water to Helford itself and The Shipwright's Arms. Having decided that thanks to a spot of rain we would instead drive around the river, thus undergoing a forty five minute drive through tiny, winding, overgrown roads to arrive approximately half a mile from where we started, could I heartily recommend the ferry? It's small, local, and runs on demand from a kiosk outside the Ferryboat Inn. If you get rained on a bit, you'll live. You'll still thank me. Helford is probably where they wanted to film Doc Martin but couldn't because it is even more picturesque than Port Isaac, and The Shipwright has the confidence of a destination that knows what it's doing and does it very well indeed. My crab starter came with a healthy portion of punchy white and brown meat, granary bread (from Vicky's Bakery up the road,) and a salad of carrot ribbons, leaves, tomato, cucumber and apple that just seemed to show that whoever was in charge was a grown up who knew what they were doing. A deep fried Cornish brie oozed all over a homemade chutney and everyone was very
happy, even more so when two perfect portions of fish and chips arrived. They were also accompanied by genuinely pleasant mushy peas – something of a contradiction in terms as far as I'm concerned, but not one I'm likely to complain about.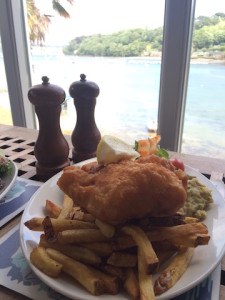 A little tip if you visit the Tate at St Ives – do check if it's open first. Sadly it is presently shut til March 2017, which must be handy for the summer trade, but we didn't mind too much, and happily munched a rather good crayfish salad and a couple of pasties at the kiosk overlooking the beach. The restaurant just above it also looked good, but we wanted to wander off and look at art we couldn't afford in some of the galleries in town. A stop in Falmouth at the National Maritime Museum on the way back was worthwhile, (if only to snigger at the spelling of Cnut in the Vikings exhibition,) before returning to The Ferryboat for a game of pool and a last meal before leaving the next morning. We shared the seafood platter I'd spotted on our first visit, and although I might have appreciated a couple more oysters for the £38 price tag, picking my way through a plate of crustacea remains one of my absolute favourite occupations, especially if someone has sensibly refused to put any whelks on it. We finished with the lemon posset again and a rather lovely sticky toffee pudding.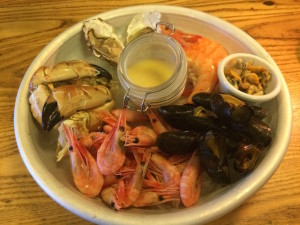 There was even a band playing that I quite enjoyed, which is a fairly remarkable achievement. I couldn't be happier than when I'm dancing around to live music in a field, but if they started playing in a restaurant I'd tell them to sod off. Well, actually I wouldn't, I'd just glower pointlessly in a corner while my wife tutted at me, but it is highly unlikely I'd consider they were enhancing the experience. These guys were playing a very proficient and unobtrusive brand of jazz, but it is as much a testament to the good taste on offer all over this part of the world that I liked them as much as I did. And we didn't even have to walk through any mud to get away from them afterwards.
July 2016
If you're interested in booking our friend's one bed apartment, it's 16b, Helford Passage at www.holidaycornwall.co.uk. And if you think this counts as advertorial rather than absolutely independent criticism, you'd be completely right. You even get 10% off at The Ferryboat if you tell them you're staying there.