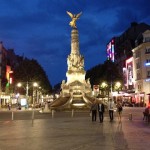 All of it, obviously. Step aside Elizabeth David, Jane Grigson and all you Rouxs, Food Ponce has Les Bleus covered. Except for Paris, which I've already written about definitively having spent four days there in 2011. Come to think of it, I think I used the same joke then (I just checked – I did,) and like a politician's punchline it doesn't get any funnier with repetition.
I have, however, just driven through what feels like most of France. Twice. In a slightly hare-brained scheme to mark my parent's 50th wedding anniversary, my brother and I joined them with our partners at a cottage in the South of France where we used to holiday in the eighties. If you think you've heard of La Rochette, you haven't. Not this one. I would say it has a population of around 60, but why bother when the internet tells you it's exactly 57? Anywhere with a population small enough to be counted that accurately has to be pretty remote, and it is. I don't know if the intervening 25 years had lent a rose-tinted glow to the journey, but as we closed in on our destination after two solid days of driving, the looks I was starting to receive from my passenger were less those of someone enjoying their holiday, more a combination of cramp, disbelief and hours of accumulated worry that the dog might lose control of its bodily functions in her lap.
La Rochette is located up some very bendy roads about an hour north of Nice, and a fucking long way from Calais, if you'll excuse my French, which I think you're going to have to. The nearest town of any note is Puget-Théniers, but it would be a very small note. If you should find yourself wandering around there at any point, which you won't, Café Math does a very reasonably priced set menu lunch (€13.50) served by a young waitress who admirably took her inability to understand my pronunciation of 'Perrier' about as far as was credible. Next door to the station (which you'll probably find yourself visiting relatively quickly,) L'Oustalet does excellent bruschettas and ice creams, and reasonably good steaks, all of which seemed to be cooked slightly differently from how they'd been ordered. It's not a bad town, just not a particularly exciting one, but then it doesn't need to be, as it's in the South of France, which is quite enough for a town to be smug about as far as I'm concerned.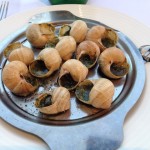 We had a lovely holiday, but somewhat chastened by the drive down, we decided to make the journey back even longer. This was a much better idea than it sounds as it allowed us to travel at a more leisurely pace on prettier roads, enjoy a couple of nights of moderately good hotel living and make sure we still had time to circle Lyons a couple of times before we got over-excited by too much traveling in the right direction. Our first stop was Mâcon, and as someone who has stayed in a lot of hotels over the years, I was pleasantly surprised by the Ibis Styles, mainly because I'm someone who's stayed in a lot of unstylish Ibises over the years. This one even had a swimming pool which was just what I felt like after the drive, and then we headed down to the banks of the Saône and Le Lamartaine for dinner. This is one of three fairly similar looking restaurants in a row in what could easily be described as a tourist trap, but then three similar bistros in a row in France does not fill one with the same trepidation as it might in, say, Hastings, which we passed through on our way to the Channel Tunnel and, a thousand years later, still appears to be crying out to be invaded.
We picked Le Lamartine for no particularly good reason beyond a smart exterior and a pleasing menu of French and regional (i.e. Bourgogne) classics which I was very happy to get to grips with. I did want to try andouillettes, the famed sausage that Jay Rayner once described as being 'made from the business end of a pig's intestine', but firstly I wasn't feeling brave enough and secondly I still have flashbacks to the tête de veau incident, especially as it was on the menu here, eyeing me balefully. That did not, you'll be glad to hear, prevent me being adventurous and trying something different, as I like to see it, or ordering by guesswork and being an idiot as my girlfriend calls it. She sensibly opted for faultless snails and a nicely cooked fillet of dorade, which couldn't have been more French if it had tried to sleep with her. Not me though, not when Oeufs en Meurette were available. What are Oeufs en Meurette you may well ask? As did a French friend when I got home, which should tell you something. I thought I'd take a punt – I mean, I like eggs, what the hell could they do to them? What they can do to three of them, it turns out, is poach them and serve them on croutons in a sort of beefy meaty stocky soupy winey kind of a thing that had a slight Worcestershire sauce style kick about it and was probably used by the French to wipe out hangovers after the Hundred Years War, but was not unpleasant for all that.
I should have opted for safety with my main course, but enquiries unearthed a sausage dish with some sort of fromage that had the waitress waving her hand under her nose in the international sign for 'whiffy'. If I wasn't going to have andouillettes, I could have these. What in fact arrived was a large plate of rounds of garlic sausage on sauté potatoes, a jug of quite thin and relatively un-whiffy cheese (cancoillotte) sauce and a token tomato and lettuce salad hidden under a mound of bacon lardons. Basically a heart attack on a plate. It was solid comfort food, but not terribly exciting, and my other half summed it up best when she pointed out that I had ordered quite an expensive Full English Breakfast over two courses. Dessert was a good couple of boules of ice cream (I ate a lot of ice cream on this trip) and a very reasonable bill of just over €70 (excluding service) left us happy, if not as happy as I'd have like to have been.
The next day saw us arriving in Reims, which the French pronounce as if they were doing a very quick bout of heavy lifting. We checked into another Ibis Styles (no pool this time) and headed into town. I had not been to Reims before and it is stunning – the trip to the Cathedral worth the entire trip on its own. The main restaurant area from Place Drouet d'Erlon is a dizzying boulevard of choice with everything from the high end (and full) Café Flo at one end to pizzas and Mexican and Irish pubs and everything in between. There was plenty of opportunity for catastrophic misjudgement here, but luckily we chose well in Le Grand Café, and left the catastrophic misjudgement to the fashion faux pas of the passers by.
[Seriously, I have never seen so much appalling taste or badly contained flesh on display. Hookers from central casting would be well within their rights to claim a lot of it was a bit much, and at one point I considered sticking forks in my eyes so I didn't have to see anymore. How much this was tourists and how much locals I don't know, but if France is the land of elegance and style, then truly Reims is its (sorry about this) Waterloo.]
All of which ran counter to every other impression I had of the city. Le Grand Café was that unusual beast, a very busy tourist restaurant that managed to be both an authentic destination and yet feel strangely intimate. Our waiter was superb – helpful, efficient and tactfully switching between English and my dreadful French without a hint of superiority, in stark contrast to the stereotype I shamelessly perpetuated earlier. My better (at ordering) half started with an exemplary beef carpaccio, pepped up with raw mushrooms, artichoke hearts and capers and followed this with a generous portion of moules Provençale, a house speciality. She also ordered me to 'order something that you know, and like' which seemed a reasonable request from someone who has recently grown a little weary of eating across the table from a truculent schoolboy with the wrong sweets.
In light of that I kept it simple, for which I will be truly grateful. My soupe à l'oignon was faultless – a thoroughbred of the genre. A deeply rich broth packed with onions and possibly the largest crouton I've ever encountered, slathered with melted gruyere, was close to perfection. A sole with melted butter was delicious, if not exactly oversized, and the vegetables weren't going to win any awards, but then vegetables rarely do. My dessert was such a brilliant idea – a trio of crème brûlées – I can't believe I haven't come across it before. Strawberry, vanilla and (the winner) caramel were exercises in sugary pleasure, and I only had to run a half marathon, visit a cardiologist and employ two dentists afterwards to nullify the side-effects. My other half had a Brasilia, which is neither a disappointing World Cup campaign nor a waxing (you'll be delighted to hear,) but yet another chantilly topped ice cream delight of coffee, vanilla and meringue with which she professed herself blissfully happy. We sauntered off down the boulevard (one must always saunter down a boulevard) thoroughly pleased with ourselves, Le Grand Café and a bill of €82.
If you are ever approaching Calais, I could definitely recommend giving Saint-Omer a miss for lunch, especially when you need the time to get lost in the search for an hypermarché before crossing the Channel. Not nearly as much as I could recommend not adding another hour and a half to your journey home trying to avoid running out of petrol on the M20 and then turning the wrong way on the M11. If the last leg of our trip was farcical, it was probably in keeping with much of what I shall now charitably deem 'a driving holiday' but that didn't stop us enjoying ourselves, or reminding us that when it comes to stopping randomly for dinner, there is a reason the Michelin guide was created in France, while on this side of the Channel, our tyre manufacturers were tediously manufacturing tyres.
June 2014