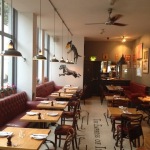 I like dogs. I love my dog. I also enjoyed the painting of two dogs catching a frisbee on the wall of The Empress in a corner of Hackney that has come a very long way since I first encountered it in the nineties. What I didn't like was the incredibly loud actual dog barking away at the bar when I arrived to meet my partner at a pub/restaurant I had otherwise heard rave reports about. However, as it was pretty much the only thing I didn't like about the place, I'm going to mark it down as contrast and consider it 'local colour'. And anyway, even its owner got the hint and took it away after fifteen minutes, thus leaving me almost nothing to complain about whatsoever, which is probably my only complaint.
There really aren't many things better than catching up with old friends over good food. This small enclave of bars and restaurants is a delightful slice of what gentrification can mean if you are an unrepentant ponce like me, and while I may not be able to afford one of the big Victorian houses that have shot up giddily in value around the corner, I could very easily afford The Empress, which further improved the experience.
The fact we didn't quite order all the menu is probably as good a reason as any to come back, but we did consider it. Our friends have eaten here countless times and it was easy to understand why. We started off with some starters pretending to be bar snacks – whitebait plump enough to merit an upgrade in status to fish without chips, and Padron peppers that fizzed in the mouth with saltiness, juiciness and chilli heat. Padron colliders, if you will (no, YOU shut up.) The pork rillettes were simply the best I've ever eaten and I have eaten a lot of pork rillettes.
While you could go starter/main course/dessert, it seemed more fun, not to mention sociable, to order lots of small plates and share them around, which left me with that pleasing sensation of being unsure of my favourite and changing my mind each time I changed dish. The freshness of the sardines were espoused with a kind of evangelical zeal by our waitress who had that slightly forbidding air of someone who was more likely to bellow 'EAT!' at you than quietly guide you round the menu, and with food like this she was well within her rights to behave however she wanted. Bitter endive, olives and a kind of harissa houmous punched the sardines up a notch, providing a completely different seafood hit to the mellower herbal tones of diced cured salmon, fragrant with cucumber, beetroot and dill. Raw beef was chewy but tender with chilli, sesame, lime and an oriental opulence I'm sure I'll try and fail to reproduce at home, while crispy lamb breast with anchovy and rosemary was just a big fat smack on the lips. From someone you very much wanted to smack you on the lips, I hasten to add.
I like snails, although I sometimes wonder why, if we wanted to eat them that badly, we always insist on marooning them in so much garlic butter they taste of nothing else. And I must admit, even in the finest French brasserie the panicked thought, 'You're eating fucking snails' can catch me unawares, but now I think I may have found the perfect version. Served in half a shin bone with the marrow and the most moppable sauce in existence, they were tender, tasty, elegant, luxurious and pass me the thesaurus. As my friend Simon wondered aloud, 'How do you get onions like that?' I think the answer is butter and very slow cooking, but I bet mine wouldn't turn out like that. And that is one of the beauties of this place – as with the beef, you feel you could rustle a lot of it up at home with the right ingredients and a well-thumbed copy of the correct cookbook. You are of course fooling yourself utterly, but that's half the fun.
Dessert proved the point rather nicely by turning up sneakily as if to say, 'Well, you couldn't do this, could you?' – a vanilla pannacotta with exemplary wobble, greengages and a scattering of hazelnuts, and a quenelle of frankly thrilling chocolate mousse had me seriously considering ordering a second dessert, as apparently the one I edged my spoon towards wasn't mine to approach twice.
By this time the thoroughly handsome dining room had filled up to near capacity, which is good to see on a Wednesday night, and I imagine many of them were tucking into guinea fowl, goat or another of the proper main courses I now want to go back and try. Even though we weren't drinking, a bill of £95 for the four of us, including service I would happily call 'confident,' meant we were beautifully looked after in every department. At this rate, who knows what this corner of Victoria Park will resemble in another twenty years' time – Nirvana or the Hanging Gardens of Babylon, quite possibly – but if I were you, I'd take the opportunity to visit right now.
October 2014