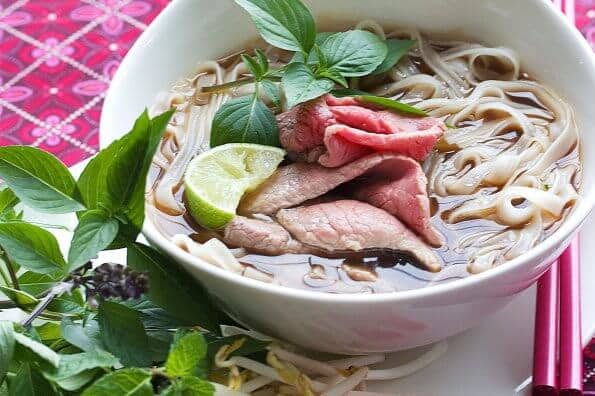 If you asked me for my favourite things to eat, I'm pretty sure Pho would be up there. I was first turned on to this deeply flavoured, hearty but aromatic (in the right hands,) concoction by Anthony Bourdain in one of his books called 'How I became too cool a chef to bother cooking much anymore,' or something like that. I don't mean to be snide – 'Kitchen Confidential' was excellent. 'A Cook's Tour' seemed to be exactly what someone who's worked hard their whole life would do with the opportunities to have a bloody good time success afforded him. So fair play. And he can certainly spot a trend. I don't know how much it was down to him, but nowadays you can't move for joints offering beef noodle soups all over the world, from roadside stalls to upmarket malls. I'm now slightly worried there aren't any left in Vietnam, but until I get round to ticking that particular country off my bucket list, I shall just have to eat their national dish elsewhere. I love it – my wife makes a brilliant one, there are pop ups offering speciality ones, huge chains offering dizzying varieties and what is so fascinating about it is that for what is ostensibly a fairly simple dish, it can accommodate so many permutations.
I eat a lot of Pho. It is comfort food, hangover cure, refreshing, satisfying and reassuring all in one go – all those things derived from the magical Asian alchemy of hot, sour, sweet and salty.
In the interests of full disclosure, I also thought of the word 'Pholympics' and decided I wanted to use it.
So, from now on, I'm going to keep a record of the Phos I try, and give them a star rating out of five. As a comedian, I know just how irritating that can be, so I feel it is time to annoy someone else with it. I'm even going to do halves, cos they're really bloody infuriating. And I'm going to use a soup bowl emoji instead of actual stars, like some kind of irritating broth hipster, and you can't even punch me because I am living far away inside the magical internet. So there.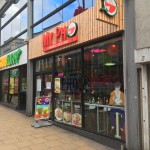 1. My Pho, Liverpool.
Bit of a game of two halves this, which seems appropriate. However, as I was up in Liverpool for four days and went twice, that should tell you this funky little eatery is well worth a visit. There are bright murals on the wall, lots of good things on the menu, and a definite ring of authenticity. I have decided that for Pholympics I am always going to order the Phò Tái – with thinly sliced beef, partly for consistency but mainly because I always do anyway. First however, I ordered the tiger prawn summer rolls, a copper-bottomed Viet classic, which looked so amazingly appetizing when they were delivered, I chomped greedily in, only to be surprised by their almost complete tastelessness. This was weird, as everything looked so right, from the juicy little crustaceans in their pancakes, to the chopped red chillies in the dipping sauce. They just tasted a bit meh. Sorry, but that was that.
The pho arrived shortly after and was, well, decent. Not as deeply flavoured a broth as the very best, despite the boast of the ten hour cooking time and the need to taste before adding chillies. I added all my chillies, although, as usual, I then spent quite a lot of time fishing them all out again. Not bad at all, and certainly good enough, cheap enough and close enough to return for lunch the next day, when things took a definite step up. Unfortunately part of this involved a transfer to a fixed high stool that seemed to be ergonomically designed to prevent you from ever getting comfortable. However, some chicken summer rolls were a vast improvement on the previous day's prawn version, and a plate of crispy chicken wings sent me flying back to a little street stall I used to hit with alarming regularity on a couple of trips I've made to Kuala Lumpur. These were excellent, and the soup was better too. Not that the first one was bad, but what this does speak of is a kitchen that makes everything fresh every day, and all I got was a little variety, which is frankly, what we spend most of our lives pining for.
Both bills came in at just under £20, and I'm pretty certain I'll be popping in next time I'm in Liverpool. I would advise you to do the same. So, maybe not a gold medal to kick off Pholympics, but certainly a decent silver.
🍜 🍜 🍜 and a ½
Feb 2018