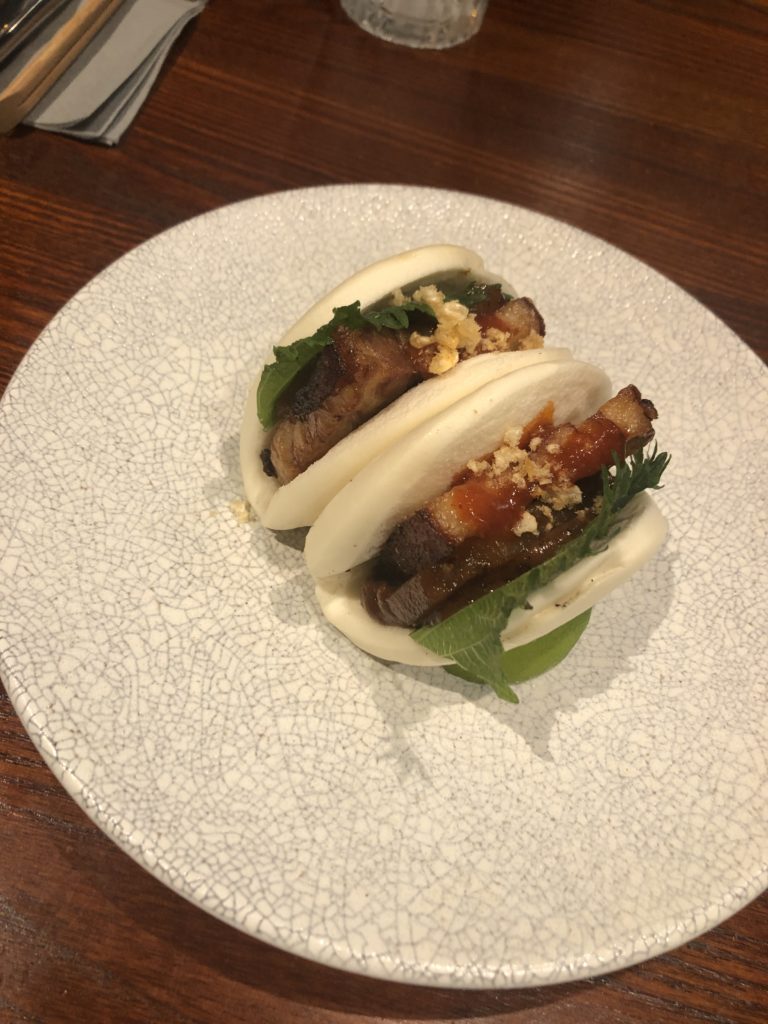 There are many great match ups in the world. Cheese and wine, Laurel and Hardy, Rhythm and Blues, to pluck three from thin air. The pairing of yours truly and Adrian Chiles may not yet have achieved that level of international renown, but it was the reason I found myself in Manchester last week to appear on Question Time Extra Time. That, and the need to annoy a very specific type of Twitter troll with my wokeness. Having arrived in a soaking wet Salford a good few hours before the show, I had plenty of time to look around for something to eat, and as I was trying to avoid Prezzo or Wagamama or anything else too generic, I stumbled upon another double act I imagine you've never heard of.
Shoku is a Japanese/Peruvian fusion restaurant and cocktail bar stuck next to another pub called The Botanist (god but the gin boom has much to answer for,) and as such represented the traditions of two countries I had never put together in my head, let alone stomach. I have no problem with fusion per se. Surely all traditions have much to learn from one another, and I'm dialectical kind of a guy, but as much has been said about fusion failures as its successes. Liver in lager remains a perennial (and very good) culinary/cinematic in-joke. On honeymoon in New York in 2014, we discovered a Mexican sushi restaurant which remains the worst culinary experience I've had in America, and I've had someone try to convince me a Philly cheesesteak is a good thing. My friend Ian Moore recently posted a picture taken on a visit to the same city where he came across a place called Taco Mahal. I'm not sure I want curry in my taco, but then maybe it's not for me. I went into Shoku to see if it might be.
It's a classy looking joint, which is some achievement considering the walls contain evidence of the dreaded 'local artist,' but the space itself is well designed with clean lines, a separate bar and a semi-open kitchen. Happily, when there were plenty of small, empty tables marooned in the middle of the room, where most waiters seem contractually obliged to sit you, I was given a very comfortable and spacious booth all to myself. The menu was a little more problematic as it contained the seeds of confusion that can often make mixing up traditions such a difficult experience. There was a good selection of sashimi and ceviches – as I suppose both cuisines enjoy a fair bit of raw fish with citrus – as well as mains, ramens, nibbles, snacks and small plates. I felt a bit like I was wrestling the concept to the ground, but what I cannot deny is there were definitely things on there I wanted to eat.
Edamame came warm and shelled, with a decent umami hit of kimchi ketchup, while tuna tartar tostadas came balanced on a couple of lime slices and were very serviceable, even if the taste of the fish was a little lost to the smoked egg yolk. But they were fun to eat, and I started to warm to my dinner. I have to compliment the waiter who had obviously seen this kind of confusion before, and it was he who led me to the chicken karaage, which is best described as high end KFC doing a decent impression of soft shell crab. A genuinely tasty dish livened up with ponzu mayo and a pleasingly firm and crunchy texture, a trait it shared with some marinated miso aubergine topped with a pecan crumb. Not bad at all, if a little insipid, and no one does miso aubergine like Kulu Kulu in London (one of my favourite dishes anywhere,) but the main problem was that I cleary hadn't ordered quite enough to see me through to the end of late night radio shenanigans.
On first pass I had ignored the pork belly bao on the grounds I don't generally like them much. In my experience, these Japanese buns are usually just big whorls of creamy coloured dough wrapped round a sticky bit of disappointment. I may have to rethink my prejudices though, because when this arrived, not only did it fill me up, it made me re-evaluate the whole meal. The bun itself was simply a folded circle of a perfectly light yet chewy dough, balanced again on a couple of those lime wedges, but what was really special was the gloriously tasty, sticky, soft and crunchy pork belly within. This was served more like a miniature pancake than a bun, and was all the better for it. The menu described it as follows, (which will serve better than any florid adjectivising from me:) bbq pineapple / kimchi ketchup / pork popcorn / togorashi. It was exquisite, and really, when something not only knocks your socks off, it also makes you re-evaluate your opinion of an entire dish, you cannot help but be impressed.

At £30, dinner wasn't cheap, but then neither was it expensive, and the service was exemplary, even if the entire waiting staff appeared to be harvested from the funky school of young male Manc students who were much cooler than I ever was at that age. Still, I had The Roses and The Mondays, and I don't think they've got anything better, AND I got a grant, so we'll call it evens, and not begrudge them a decent  (and well-deserved) tip.

I shall certainly be back. Hopefully on 5Live, but I trust it is not ungrateful of me to say that much as I am looking forward to revisiting the Chiles/Barrie double act, not to mention a Twitter bunfight with an Aston Villa fan called Leighton, I'm just as excited about the buns at Shoku. Now I've tried a pork belly bao, I need to go back and do a bit more exploring. After all, it seems very clear the connection between Peru and Japan runs far deeper, and makes a lot more sense, than the one between Italy and Prezzo.
January 2020