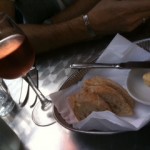 I have been driving the length and breadth of this country for about ten years now as I am still unable to convince audiences to come to Battersea in plentiful enough numbers to earn a living from SW11 alone. Bristol is one of those cities, to which I would add Manchester, Cardiff, Sheffield, Leeds and Liverpool, whose recent regeneration has put paid to much of the aesthetic damage done to them in the post war years and which have emerged bright, polished and with a new Harvey Nichols or at least a very shiny House of Fraser to show for it. Even Birmingham has got a Selfridges, so clearly they knew I was coming. I'm especially familiar with Bristol as I went to school in nearby Bath, have many friends there, and it has been home to three comedy clubs – Jesters, The Comedy Box and Jongleurs, for some time. Jesters is presently re-developing in the city centre (if you can't beat them…) The Comedy Box continues to put on excellent bills at very reasonable prices and Jongleurs is still operating from its original venue which is handy for all those stags and hens who couldn't read a map if they had to find a new one.
I was very interested to walk down to the new Cabot Square development to see a really handsome job of high street rejuvenation, incorporating all the retail outlets that modern Britons would inevitably whither away and die without. Most striking of all is Cabot Circus, one end of which is now occupied by a Brasserie Blanc. I didn't go inside The Friary Building, but M. Blanc waxes lyrical on their website about its previous incarnation as the old Quaker meeting hall and how he's converted it. With all that religious baggage I suppose someone had to, but the location and the building itself looked lovely on a bright September day.
As our cities have rung out to the sound of building work, so our televisions have reverberated to the rise of the TV chef. Raymond Blanc is perhaps one of the most ubiquitous, but has never seemed to quite vouchsafe a place in the nation's hearts like a Hugh, a Heston or even a Gordon. Perhaps it is the perceived superiority of his Manoir au Quatre Saisons that still seems out of reach to most of us, in a way that a Fat Duck or a St John's just doesn't. Maybe it's that rumours of his financial demise abound just before he rebounds with a new series of 'The Restaurant' or a range of brasseries bearing his name. Maybe it's just that he's French. I hope not, but I, like, I suspect, many others, have always admired his obvious passion for food, without particularly warming to the man himself. Which is hugely unfair, but then these perceptions were, to an extent, borne out by my meal in Bristol.
This from M Blanc on the website –
"I am often asked what a Brasserie Blanc is. Well if the Manoir is a delicate waltz then the Brasseries are the Can Can. For sure, this is not a place for refined haute cuisine and three course meals. Rather, Brasserie Blanc is a place for relaxed enjoyment where I can offer you simple, high quality food that comes as close as possible to the meals that my mother prepared for me at home in Besançon and at a price that encourages you to visit us regularly"
Now I have no idea how this was a Can Can as opposed to a delicate waltz, but I would say that I think I see what he's doing and it nearly works. We had a brilliant meal. Unfortunately there were two of us. On the positive side, the surroundings were delightful, as were the staff, and the lunchtime deal of 2 courses with a glass of wine for £12.95 is very good value. A sweetcorn chowder was creamy and tasty and came with popcorn floating in it, which was a clever touch, accompanied by a perfectly good glass of sauvignon blanc. Ham hock terrine looked very pretty but was hugely underseasoned – not bad, just boring, a bit like my glass of rosé – and only slightly lifted by a bland sauce gribiche. My main course, on the other hand, was lovely – a beautifully cooked piece of buttery plaice with runner beans and new potatoes that would have had me looking very favourably on the whole experience, were it not for the terribly dry and uninspiring beef Provençale with pilaf rice that arrived on the other side of the table. Neither of us were tempted by the desserts, although I'm sure at least 50 per cent of them would have been very good.
So, more of a Can Can't than a Can Can. However, at £30, excluding service, this still represented something of a bargain, which has given me cause to question why I have previously wanted to Blanc Raymond. I won't be rushing back, but I think a combination of the setting and an eye to judicious ordering will see me returning, if not regularly, then at least until Maman Blanc comes to perform in the Battersea area.
Sept 2011