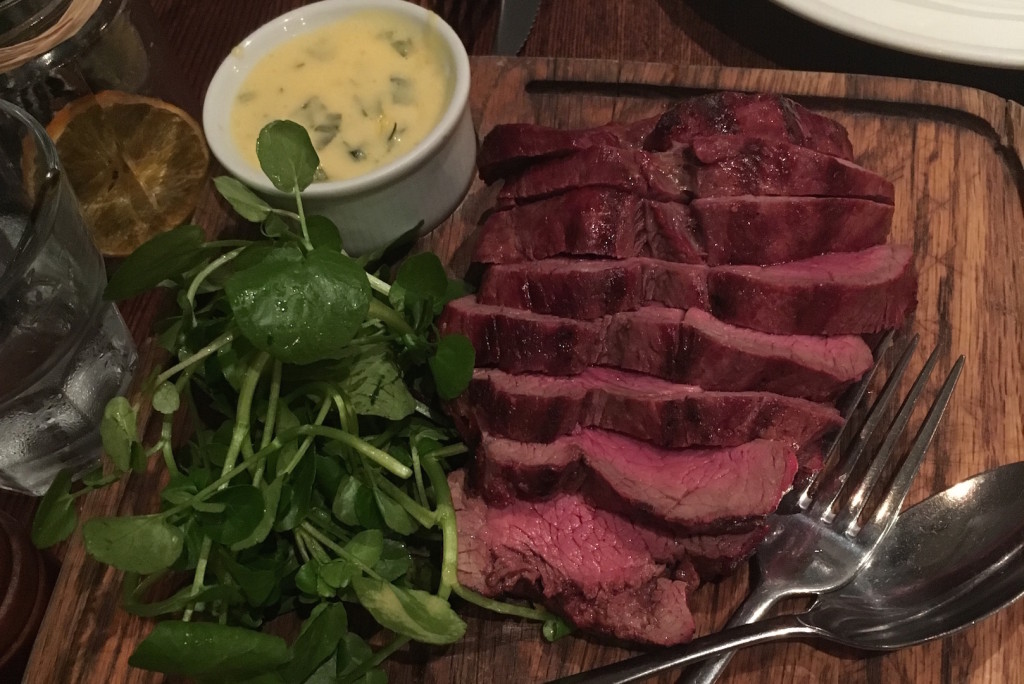 Having asked our neighbours if they had any tips for a good local restaurant, they were particularly enthusiastic about the Fox and Hounds in Hunsdon. They extolled the virtues of the roasts, the unpretentious gastropubiness and overall quality of the 'dining experience' – as they would have described it were they irritating food PRs, which of course they are not. If they were, I would be unlikely to ask their advice, let alone live next door to them.
Luckily, they are highly trustworthy people, and we decided to take them up on their suggestion. What impressed me most initially was phoning to be told that not only did the Fox and Hounds have a table, they also welcomed dogs AND babies. As confirmed terrier owners, and, now, possibly more importantly, parents of a little one whose age we are still counting in weeks rather than months, it is clear priorities have changed. Obviously I still love a glitzy venue, culinary fireworks and the theatre of a well managed service etc etc, but now I will happily eat spam fritters washed down with Nescafé as long as there's a place to stow the dog, room for the pram, a baby-changing table in the loo and staff who will cluck not scowl at the possibility of the atmosphere being blood-curdled by an unhappy infant at any point.
Let's face facts – if you're my daughter, I'd say it's pretty important you like restaurants if we're going to get along, so it's probably best to start the induction early. I mean, her menu options at this stage are entirely milk-based, but there can't be any harm in giving her an idea of what might be on offer when she has, you know, teeth and stuff. Nothing like building up a sense of anticipation, even though, if she's anything like her father, I am storing up a world of financial pain in the years to come – "Daddy, what is lobster thermidor?"
When that moment comes I will inevitably be caught in that difficult area between pride and financial embarrassment, but in the meantime, if you are going to introduce anyone, of any age, to the pleasures of eating out, you would be hard pressed to find a better venue than the Fox and Hounds. The only thing that annoyed me was we'd lived twenty minutes away for the past three and a half years and no one had mentioned it before.
In the end, we opted to leave Bagel (yes, even our dog is food-based,) at home, but if you want to get on my good side, opening the door and asking where the dog is, with genuine disappointment in your voice, is as good a way as any. The effect is especially heightened if you do so while standing next to a huge wheel of homemade focaccia dotted with salt crystals and rosemary which it actually took a physical effort to stop myself tearing a chunk from in passing.
We were placed in a cosy little corner of a banquette mere stumbling distance from the bar, all of which is decorated in a way that not only screams good taste, but seems to have been designed specifically to remind you this is both a restaurant, and a pub. There is a whole wall given over to cookbooks, by a large fireplace, and paintwork in a particularly soothing shade of battleship grey. My wife sat perched beneath a print of the Hertfordshire stag who looked down on all below him and saw it was good.
This certainly extended to the menu, which achieved the tricky balancing act of being both original, comforting, and not containing a single item I didn't want to order. I think the word I'm looking for here is hearty. Black pudding, mushroom and egg, rabbit, pork and veal terrine, oxtail bourguignon, brill on the bone, Hampshire pork belly. There were subtler options – smoked mackerel salad, or a tiger prawn tagliatelle. Vegetarian options looked good at first, even if they did involve goat's cheese (they always involve goat's cheese,) although there wasn't much for the non-carnivore in the mains section. There was, however, plenty of game, (sorry vegetarians,) lots of braising and a whole section FROM THE JOSPER CHARCOAL OVEN which is, unsurprisingly, where we mostly ended up.
I started with French onion soup, on the grounds that something as classic as this is a pretty good barometer of a place as a whole. I was not disappointed. A beautifully rich, meaty jus of a broth, thick with caramelized onions and a certain boozy oomph. If you order port and brandy at the bar, there is every chance you have something of a problematic relationship with alcohol. Stick it in an onion soup, on the other hand, and I'm pretty sure it counts as a seasoning. I might have liked a touch more gruyere on my crouton, but that is nitpicking of the highest order, especially as I had already hovered up a goodly portion of the aforementioned focaccia which tasted every bit as good as it looked.
Special mention at this point must go to my daughter, who was winning awards for snoozing, thus allowing my wife to get herself very much around a generous portion of freshly Jospered squid, scored, grilled and accompanied by a pleasingly citrus chermoula, rich with an irony bite of coriander – really simple, clean cooking, superbly executed.
Our initial desire to go out had been partly fuelled by a mutual desire to find ourselves a decent steak, and we couldn't ignore the Chateaubriand flirting at us expensively from the menu. If I was being ultra critical, I would say that it veered ever so slightly to the rarer end of medium rare, but if it's going to veer anywhere, that is the right way to go. With a piece of meat this good it really didn't matter anyway. I might also say that £64 is quite a stiff price tag for just beef, bernaise, chips and a clutch of watercress, but once again, this was about the quality of the meat. Added to which, ordering a Chateaubriand and complaining about the price is a bit like going on holiday to Dubai and complaining it's too sunny. At least ordering a Chateaubriand requires some taste in the first place. Also, the chips were epic.
I took a break at this point to discover the men's loos were decorated with Modern Toss prints, which added 'sense of humour' to my growing list of the pub's achievements. I'm not sure if there was a baby-changing station in there, because my daughter was behaving so beautifully that the next table even commented on it, probably out of relief as much as anything else. Apart from polishing off a bottle, she pretty much slept the entire time. Personally, I think she was just being appreciative of a truly excellent establishment; a view further enhanced by a few more pulls on an excellent Chinook Amber Ale and the dessert menu.
A fairly workmanlike pear and almond tart was rather taken out to dance by an beautifully subtle cinnamon ice cream, but the absolute star was a perfect vanilla pannacotta, all unimpeachable wobble and toothsome rhubarb on the side. This was another classic, perfectly executed, to such an extent that I feel I should mention the chef, James Rix. Not because I know him at all, but because I found his name on the website – he is clearly an absolute master at work and I cannot wait to return and experience some more of his cooking. Service was impeccably attentive and friendly, and the whole operation seems to have pulled off that difficult balancing act of offering fine dining that somehow feels like home-cooking. The bill came to an extremely reasonable £110 including service, (and despite the Chateaubriand.)
Two very happy parents wheeled a miraculously sleepy baby out into the December night, and returned home to let Bagel know we had had a lovely dinner of Spam fritters and Nescafé. I'm not sure she believed us, so I have promised to take her soon, purely to impress the lovely staff at The Fox and Hounds, and not for my own benefit at all. Even if I really needed an excuse to return, which I don't, I'm pretty sure I can justifiably claim it's simply an excellent place to settle the baby.
December 2017