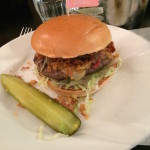 Apologies if you're wondering where July's Food Ponce was, but I was busy writing and previewing my Edinburgh show. If you are following me on social media in any capacity, you may well be aware that I am in Edinburgh. In fact, if you still follow me on Twitter it's unlikely you will do so much longer if I mention it again.
So. I'm in Edinburgh ('No More Stage Three' – Movement, Cowgate, 15:45. Sorry.) Time is at a bit of a premium, but I do have a review to write up that shouldn't take long, which will be a relief to all of us.
A couple of weeks ago, my wife and I met up with our friends Jimmy and Aoife for a bit of dinner before we headed to Edinburgh. (I am there now – did I mention that?) We were in Holborn, and by clever use of smartphone, managed to narrow our options down to one of the hundreds of available eateries in the area. I liked the sound of Holborn Dining Room, so we marched down there, took one look at the very impressive menu and decided we'd all rather pay our mortgages this month instead. (Especially with rent being what it is in Edinburgh, where I am now.) A couple of noses around the outside of average looking brasseries later, one of us remembered we had walked past a branch of Byron's about three minutes previously. Normally when you meet friends for dinner, you don't tend to think 'burger', but this is a thought process the growth of the bespoke burger chain is working hard to challenge. Something about the suggestion chimed with all of us and off we trooped.
The Holborn branch of Byron stands somewhat incongruously next to a McDonald's a bit like a single malt* stood by a Buckfast* – they're both ostensibly offering the same thing, but you know which one you'd prefer.
Good company makes for a good dining experience as much as anything else, but so does getting down and dirty with a good burger menu. Another bonus is an efficient waiter taking a nicely dry attitude to our attempts to order most of the menu. He was also huge and impressively biceped. Jimmy is (as mentioned in a previous blog) a fireman, so I was not feeling like the most alpha male at this mealtime, but you will not be surprised when you see what we ordered to discover that my present lack of gym physique is fairly self-explanatory.
Between us we ordered two Byron's – bacon cheese burgers essentially – a B-Rex, with BBQ sauce and jalapenos which Jimmy didn't eat because he is, according to my wife, 'a massive pussy.' I had an excellent 'Le Smokey'. My burger featured fried onions and BBQ sauce too – of which I am not normally a fan. I tend to find the act of barbecuing something confers enough flavor on it without adding a reduced brown sticky gunge with all the subtlety of cleaning your teeth with marmite. However, on this occasion I was wrong. Le Smokey turned out to be exactly that. A big bold burger that was, like all of the above, moist, perfectly cooked and just enough of a challenge to eat tidily to make the whole process worthwhile. We also ordered far too many side dishes because it seemed completely appropriate. French fries, home fries, mac and cheese, courgette fritters (vitamin fans,) onion rings and a nicely poky jalapeno coleslaw.
This was already excellent in just the spoiling oneself relatively unhealthily way a good burger should be, when I tried some of Jimmy's Oreo milkshake. I had already ordered a root beer or a mineral water or something equally tedious, but having tried the milkshake, I grabbed another passing waiter and sorted out my drinks option pretty quickly. This elevated a really good, fun meal to something actually rather special. So special we didn't even have room for dessert. Well, in the interests of full disclosure, we walked to the Magnum shop in Covent Garden afterwards to find an hour's worth of bloody tourists in my way so we grabbed a gelato somewhere else while I had a cry, but that's another story.
This was a genuinely brilliant dinner – good stuff, done simply and unfussily. I have thought about reviewing a Byron before – I often stop at the one in Manchester when I'm working up there – but that was before I discovered the Oreo option. I have spent a lot of money at fine dining establishments where nothing has tasted as good as that milkshake. Here, we had plenty of change from £100 – most of which we admittedly gave to our waiter so that he could go and buy some new dumbells as he'd clearly worn out the last pair, but it was money well spent. Then it was time to head home and drive to Scotland where, as we all know, absolutely everything is good for you and there is healthfood as far as the eye can see. Perhaps I'll see you up here, and maybe you could come to my show which I have, in all fairness, hardly mentioned since the second paragraph.
July 2015
* Famous Scottish drinks. From Scotland. Where Edinburgh is. Where I am.