2012 was apparently the second wettest year on record in the UK and the coldest ever in England. I found the best way of dealing with this was to have a job that involves dicking about in international airspace for most of the autumn and then deciding on a whim to go somewhere hot for Christmas and New Year. This doesn't make you all that popular with your friends and family, or the promoter who had booked you to perform at three of his gigs on New Year's Eve, but it's well worth it. If, like me, you're also lucky enough to have gatecrashed the holiday of an organized person, you can even end up in Cape Town eating smoked salmon and scrambled eggs on your patio on Christmas morning and wondering how Table Mountain can be so big and impressive yet still not get in the way of the sun at all.
I had previously been to Cape Town to perform at the 2007 Comedy Festival, when I stayed in Camps Bay – essentially Chelsea by the Atlantic – which was extremely pleasant, no matter how many trustafarians you wanted to punch. I had a lovely, if somewhat cosseted time, but I enjoyed this trip even more  – possibly because it was a holiday, but also because of the company, the food, the views, the exchange rate, a preposterous amount of biltong, the realization of a lifelong ambition to cage dive with Great White sharks and some deeply challenging customer service.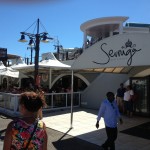 I also got more of a feel for the city having hired a small hairdryer on wheels known as a Hyundai that whisked us about admirably and meant we narrowly avoided running over the unusually high number of South Africans who don't seem to know the Green Cross Code. On our first free morning we drove down to The Waterfront, which is exactly where you think it might be, and seems primarily designed to separate tourists from their money, which was fine by us.
We had heard good things about Sevruga, and there is something about massive umbrellas over white linen, in the sun, by the water, that tends to put you in a good mood, even if the word 'wanky' might have been coined specifically for menus that have been mocked up to look like glossy magazines in a restaurant named after a type of caviar. Although we hadn't booked, we were found a table straight away in an unusually helpful and efficient fashion that was to prove something of a novelty when eating by the sea.
The food was excellent – a starter of grilled baby calamari with a lemon beurre blanc and pickled vegetables was the stand out dish, but my springbok carpaccio was also very good; sweet, gamey and suitably South African. The Sevruga platter was made up of the sort of Californian things I suspect would give a Japanese sushi chef a bit of a turn – lots of avocado and the odd blob of crème fraîche – but it was colourful, fresh and exactly the sort of thing I wanted to eat whilst feeling smug about the temperature. We also ordered a side salad that someone had actually thought about constructing as opposed to simply stripping a lettuce and resting it in a bowl. With a decent glass of sauvignon blanc, one of Graham Beck rosé and a couple of coffees the bill came to 428 Rand excluding service, which works out at £30, so we did a little dance, left a tip and wandered off to look at some painted ostrich eggs we weren't going to buy.
The next day we visited Simons Town on the eastern side of the Cape Peninsula and stopped for lunch at Bertha's. Rarely have I eaten at a restaurant that is more reliant on the good fortune of its location rather than any of the other features one might normally associate with feeding people. Tables and chairs look out over an idyllic little harbour, and we idiotically ignored the slightly rough and ready looking fish and chip shop across the slipway, opting instead for a meal that I would (very) charitably describe as amusing. We hoped that the table behind us complaining about the wait was a reflection on them rather than the restaurant, but it wasn't. Our beleaguered waitress had a touch of the thousand-yard stare as she told me an hour later that the kitchen had gone into a "tailspin". This is a fairly novel description of what had gone wrong, but luckily the food arrived to provide more concrete evidence. Untrimmed chicken livers (I found a blood clot! yay!) arrived swimming in some sort of peri-peri 'sauce' or 'gloop', the only redeeming feature of which was that it arrived at the same time as our main courses, otherwise we might still be there.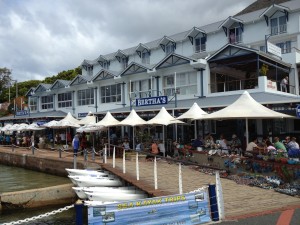 My sole was overcooked yet still retained an unpleasantly fishy taste undiminished by raw vegetables that appeared to have been briefly breathed on rather than steamed. These also made an appearance with some chips and some not completely disastrous grilled calamari, which was a pity as we'd ordered salad, while a plate of drab prawns arrived with soggy fried calamari that should have been grilled. We ate what we could, paid the 527 Rand and ran away. I would advise you simply to take the last option.
Luckily, our next discovery was one of those places you can file under hidden gem. We had been told by a Namibian bee-keeper and the PhD student who was trying to get into his pants (marvelous who you meet in the pub) that Marika's served the best Greek food in Cape Town and we were not disappointed when we walked the two hundred metres from our front door to try it. Admittedly, the décor is not going to win any design awards, but the pleasing sensation that you were sitting in someone's kitchen was only added to when the food arrived. This, Bertha, is how you do chicken livers. Flash fried with lemon and oregano, and, like some beautifully tender grilled calamari, happily complimented by a small dish of homemade chilli sauce so pokey we bought a pot to take home. The house special of Arni Sto Fourno – lamb baked in more lemon and herbs –  was a succulent delight, as was Giro chicken; essentially a traditional kebab wrap, again enlivened with chillli. Service was both helpful and generous – a free taste of the house white before we ordered a carafe for instance – and the bill came in around the £40 mark. We rolled happily up the hill home, fuelled partly by our best meal in Cape Town, but mainly by sauvignon blanc and the chilli sauce.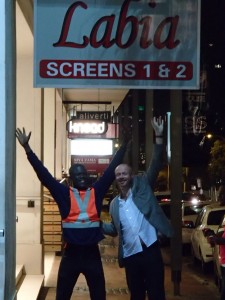 The next evening saw us hit Kloof St, home to innumerable trendy bars, including Asoka, where we had some excellent 'tapas', which I would recommend even if satay, spring rolls and tempura have never struck me as particularly Hispanic. We then passed the Labia cinema (yes we did) before heading down to Long St – a slightly more, um…vibrant area, which we were told to avoid on New Year's Eve by one bar owner because "someone always gets stabbed". I have to say I've felt more threatened in Leicester Square on a Saturday night, but as we watched white people dancing to a local band in Mama Africa, I could see his point. We finished the night with a quick takeaway Nando's – well, we were in South Africa, and it's not every day you can say you've had authentic Nando's, is it?
Moyo is a chain of restaurants offering 'modern sophisticated African' food and really quite good frozen cocktails. I have no idea how 'authentic' this is and I don't really care, although I imagine the Masai rarely head off into the bush without at least one daiquiri secreted about their person. The Eden Bay branch offers amazing views of Table Mountain and Robben Island, although the latter is more remarkable for what it represents rather than what it looks like. The restaurant is very child friendly with many of the tables boasting surfboard shaped seats that leave you to dangle your feet in a paddling pool below. Seeing what I imagine was a previously sane pensioner choosing to have his face painted instantly reminded me of Jeff Green's brilliant 'Fuck it! I'm on holiday' routine and I tweeted him a sneakily taken picture. Any restaurant offering face-painting to pensioners must be doing something right.
The meal began with some delicious coriander and dukkah spice flat bread, while peanut and shrimp soup had a pleasingly laksa-ish flavour, even if I should remember that dried shrimps are a seasoning rather than a taste sensation in their own right. A roast vegetable cous-cous was perfectly serviceable, as was a burgery sort of thing with chips that I can no longer locate on the menu. My whole squid stuffed with spinach and mushroom was tasty if tough – even if I'm not unreservedly singing the menu's praises, it had enough variety for me to want to return and service was happily efficient.
Which brings us to Hildebrand, which seriously rivalled Bertha's for horrors. They were unable to sit us in the sun because the vacant table "had no chairs". We looked longingly across the Waterfront at Sevruga as the waitron (South Africans often refer to waiters as waitrons – I have no idea why, but rarely have I come across anything less automated,) bought the right bottle of water whilst apologizing for bringing the wrong one. We were just pleased to see it after the twenty minute wait. Weirdly, the only nice thing they brought us was some completely incongruous sultana bread, which, had I known it was going to be the high point of the meal would have had me diving into the harbour to escape. We were told there were no oysters, until the meanest, dried out, milting, cultivated ones were found which was a pity as then I had to eat them.
My mussels tasted as if they had retired from active service some time ago and came with, and I quote, "the worst cream sauce I've ever tried" (© Ms E. Spink,) which also appeared to contain a lot of flour that could have usefully thickened the tinned tomatoes with raw garlic that were drowning some pasta and prawns opposite me. Or 'Frutti di Mare' as the menu had it. Some very soggy vegetables and flaccid chips lolled on a plate with three chives balanced upon them. As a professional in the world of comedy, I can assure you that this is the funniest garnish presently working in world cuisine. The side salad we ordered never arrived, which was a relief, and the bill may have been only 298 Rand, but who wants to pay twenty odd quid to get this annoyed at lunchtime?
We returned to Kloof St for our penultimate night having managed to secure a table at Saigon, a very popular Vietnamese/Asian restaurant that managed to encapsulate most of the ups and a couple of the downs of the Cape Town dining experience. An excellent Tom Yum arrived with a very passable beef Pho and some quite superb Indochine dumplings, before a very sticky but tasty Angry duck and Rainbow vegetable noodles that luckily kept us going for the twenty minutes we had to wait for the other main course. When it arrived, the massive slab of teriyaki salmon looked to me like it had escaped from the sushi station rather than, say, a hob, but the girlfriend pronounced herself happy and I had another glass of the ubiquitous sauvignon blanc to keep me in the same mood. Fuck it. We were on holiday.
Rather than dine anywhere spectacular on our last night, we ended up with friends at Cubańa, a big and fairly brash place near the gay village that had pretty decent fried bar food that we ordered quite a lot of and the most exhaustive cocktail menu I've ever seen. To be honest, my favourite thing was the first Romeo y Julieta cigar I have allowed myself in years whilst I reflected that the amount of cocktails we got through should have rendered us considerably drunker than they did. We had a fun night, although if you're drinking cocktails, I always think it's better to go for quality over quantity, not to mention a barman over a brochure, but on this occasion, with a flight beckoning, I was just glad to avoid the hangover.
On our last morning we visited Truth, a coffee house and restaurant that I have to declare an interest in as it is owned by the partner of a friend of mine. It's not quite fully open, but the interior pulls off a great line in warehouse chic and the specially designed furniture is both functional and very cool. David (the owner) is a man who seriously cares about coffee, even if he dismissed my fondness for Bar Italia as some sort of borderline personality disorder. In his defence, he does serve very, very good coffee, although anyone who also puts perfectly good eggs benedict on a wooden board instead of a plate so that the yolk runs off can't be right about everything. Knowing his partner, I'm happy in the knowledge that this will be pointed out to him on a regular basis.
We jumped inside the Hyundai for the last time, and whirred to the airport with that bittersweet end of holiday feeling – knowing we'd had a brilliant time, but also that we were about to spend a day in mid-air returning to sub-zero temperatures and what I laughingly call work and my other half doesn't. After waiting half an hour for our hire car rep to show up (he may have been an ex-waitron) we checked in, and stupidly believed someone at airport information who told us there were good restaurants on the other side of security. There weren't. There's one called Deli, and forty minutes after we sat down, a pizza arrived, followed ten minutes later by the wrong type of burger. I didn't send it back – I was hungry and had kept myself entertained watching another customer get progressively angrier about how long it was taking him to order a beer.
I wasn't angry. I was moderately philosophical. If a country that was a byword for international pariah barely two decades ago wants to take a little while delivering things then so be it. It's not as if there isn't a great deal of beauty on offer while you're waiting. The last time I was in Cape Town, I thoroughly enjoyed myself, but the whole place made me feel a little uneasy and I didn't particularly plan to return. As he drove us around on our last night, a brilliant taxi driver named Sinclair gave us a hilarious run down of the many things that are still wrong in South Africa, but aren't there everywhere? This time as I left, I was thinking about coming back, although in future I may well eat away from the water's edge.
Jan 2013