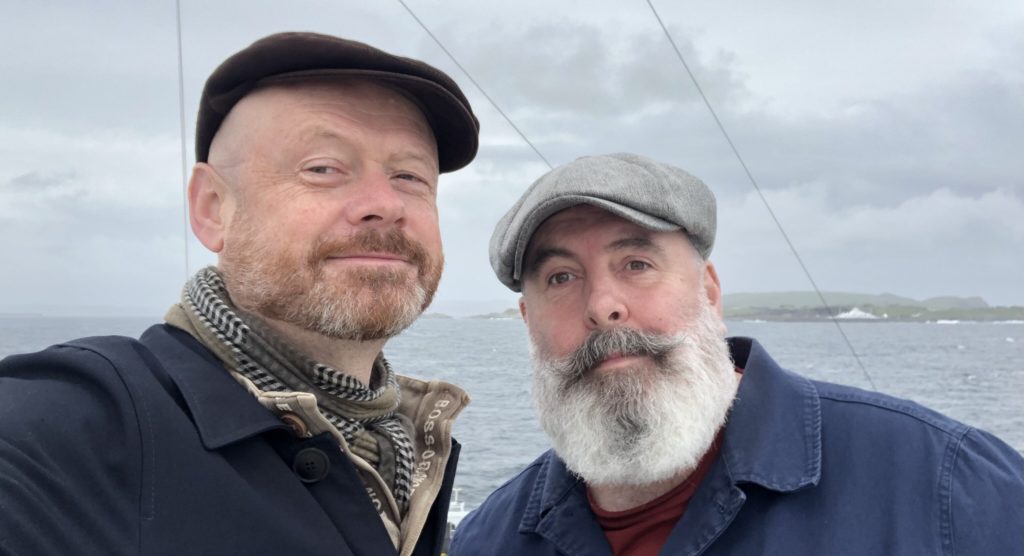 I have just realised this is my second blog in a row to feature Oldham's finest export, but he is one of my best friends, MC'd my wedding, and frankly I can't think of better company to travel in. I've been all over the world with Mick Ferry, including trips throughout the Middle East, Hong Kong, Cyprus and now Norway. I can also unequivocally say £28 is the most we have ever spent on two beers, but that's Oslo airport for you.

We were in the wonderful, welcoming and not inexpensive country of Ibsen, A-Ha and Haaland for a couple of days to perform for what turned out to be quite the international crowd. Norwegian audiences have in my experience always been largely made up of those working in the Oil and Gas industry. They have now clearly made so much money then can employ a selection of musicians, therapists, graphic designers, carpenters and dental technicians from Germany, the UK, Eritrea, Australia and the US (and that was just the front row in Haugesund,) to improve their lives. There used to be far more Scots around, seemingly determined to negate their ill-deserved reputation for stinginess, but they seemed in short supply on this visit. Maybe £14 a beer really did get to them.
We enjoyed a lovely first gig at the Festiviteten Theatre in Haugesund whose lobby I have played many times, and one day hope to be allowed to perform in the actual auditorium. Afterwards we headed to a bar where the beer was being positively given away at around £8 a pint, while a local musician murdered some Bon Jovi, before repairing to another bar playing some of our favourite high energy disco pop. The night finished with a bloke seemingly having a fight with himself on the stairs which we stepped around just before the police arrived, providing us with a nostalgic throwback to that time we accidentally got involved in a punch up outside Oldham's only gay bar after Mick's 50th. Good times.

The next morning we took the absurdly scenic coach and ferry trip across the fjord to Stavanger and The Comedy Box, helmed by the marvellous Mr Kjetel Melkevik. Upon arrival at the Comfort Hotel (which did pretty much what it said on the side,) we fancied a bite to eat before the show. Unfortunately, the hotel didn't do dinner, we were both hungry and there was a decent looking Thai across the street so we grabbed our credit cards and, with a certain amount of trepidation, crossed the road and the Rubicon of paying for our own meal in Norway.

Daran Thai isn't going to win any awards for decor. It was functional, with a few of the minor flourishes one can expect from a regional Thai, like the small bowl of plastic flowers on the table – but the food was anything but.

My suspicions we might be up for something rather good came when our waitress offered us a choice between 'Norwegian' and 'Thai' spicing. I am genuinely sincere in my appreciation of Norway, but I think even they would admit they are not universally recognised as a culinary superpower, as evidenced by our hotel buffet the night before featuring a decent carrot soup, slightly weird potato fishcakes and more carrots and potatoes in an unspecified gravy. Big flavours are not really their thing, unless they're pickled. There is not a lot of chilli in Norwegian cooking.
I love it, so, perhaps slight over confidently, went for 'Thai but not insane', while Mick went for a more measured 'medium'. We got what we asked for, more or less. A bowl of breaded prawns with sweet chilli sauce were perfection, the very epitome of what the phrase 'fat and juicy' was invented for. My chicken fried rice was also exemplary – a wonderful example of an international staple cooked with real skill and perfect ingredients. Mick's vegetable rice was a similar plate of complete comfort,. The fireworks were in the other dishes.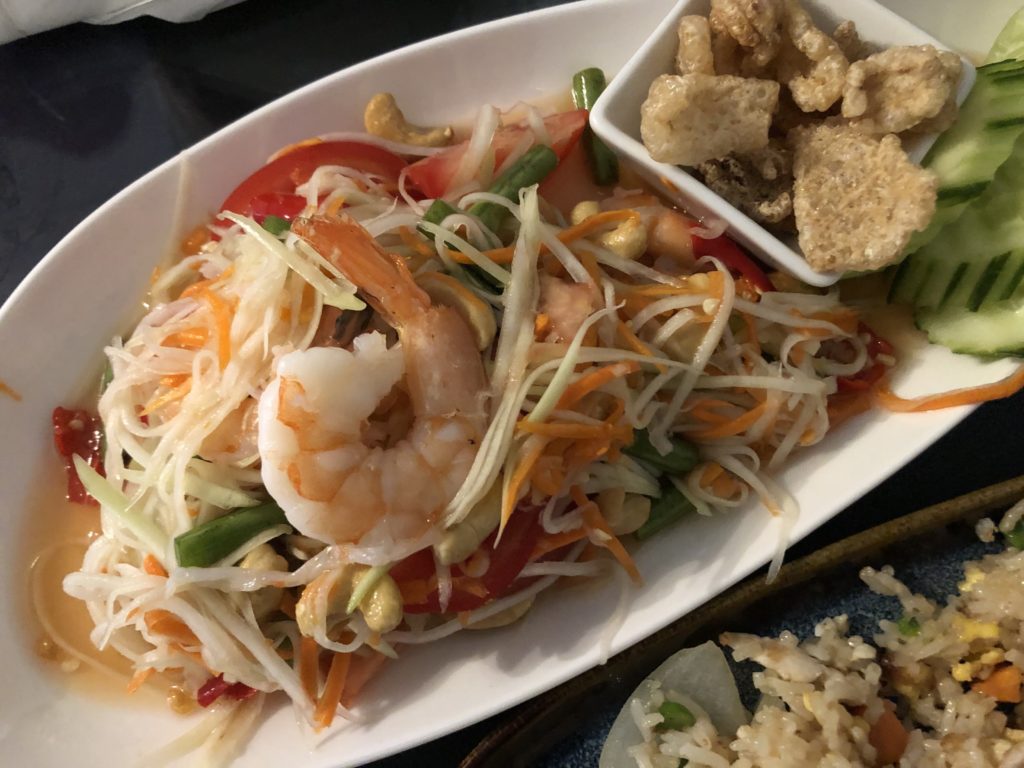 Som Tum is one of my favourite salads – a stunning combination of all that is best in Thai food. The four tastes of Thailand are meant to be salty, spicy, sour and sweet, to which I say prawn, chilli, lime and papaya and Som Tum says 'bring it on'. The one caveat is that this particular example, whilst utterly delicious, and replete with the very welcome adition of some Thai pork scratchings, had really gone for the non-Norwegian spicing and Mick sat opposite watching in bemusement as I gently exploded. However , it would appear sitting opposite a snotty comedian with tears streaming down his face in no way detracted from his chicken massaman curry. This was a far less hysterical dish, but none the worse for it, with a depth of flavour that led Mick – a man whose own expertise in running up a banging curry I can personally vouch for – to proclaim it the finest he had ever had.
With a sparkling water for me and a Singha for Mick, the whole meal came to £98, which is far from cheap, if not quite as eye-watering as my salad. After a lovely couple of shows we headed off for another drink in town, where we realised perhaps the extra portion of rice that came with the curry had been a mistake as it prevented a £11 pint of Guinness and a £12 Kwak having any discernible affect whatsoever. That was probably no bad thing as we had to be up early to get to the airport where I rejected my usual purchase of a snow globe for my wife on the perfectly reasonable grounds £20 is a hell of a lot of money to spend on something she already has.

Norway was, as always, a simply gorgeous place to visit, and one that makes you consider anew all those statistics about how high standards of living are in Scandinavia. I mean, it's almost as good as the UK. All they really need now is a new Prime Minister to tank the Krone.



October 2022